It's Friday, so I'm linking up with Running on Happy and Fairytales and Fitness for the new Friday Five 2.0. Today's topic is "Winter Fitness Rants." Believe it or not, I couldn't think of five! I do hate how much my nose runs and the erratic temps. That said, it's been a pretty mild winter, so I'm not complaining.
I was looking through some old newsletters from Finds' friend and fave nutritionist, Lauren. Since February is Heart Health Month, I'm posting some of Lauren's suggestions for heart healthy snacks from her Feb 2016 newsletter. [Sign up and read the archives HERE.]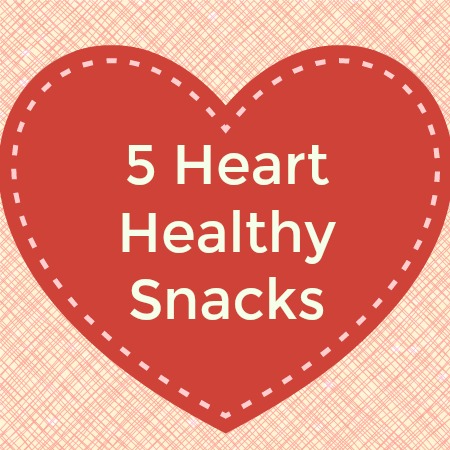 Here are some of Lauren's heart healthy snack suggestions:
"1. Cocoa dusted almonds in 100 calorie packs. Almonds are a good source of vitamin E and magnesium that can help lower total and LDL cholesterol, and with a dusting of cocoa, they satisfy our needs both to crunch and for chocolate. [It's a win-win!]
2. Chocolate chia pudding. It's easy to make. Simply combine 4oz chocolate soy milk with 1 Tbs plus 1 heaping tsp chia seeds and cinnamon in tightly sealed container. Shake vigorously and refrigerate overnight. Enjoy any time of day.
3. Cherry Tomatoes. Tomatoes contain lycopene, which decreases levels of oxidized LDLs, improves inflammatory status and also has a modest lowering effect on blood pressure. These tasty produce treats can taste sweet as candy when in season.
4. Raspberries or Cantaloupe – Reach for raspberries. They're another powerful source of antioxidants, plus, the fermentation of the raspberry seeds by our gut bacteria may help to lower serum triglycerides and cardiovascular disease risk. Dice up some cantaloupe. Cantaloupe contains potassium, which may help to lower blood pressure. We love eating it topped with low-fat cottage cheese and wheat germ. Try it for a perfect snack mix of sweet, creamy and nutty!
5. Mashed avocado on whole grain crackers. Avocados contain heart healthy monounsaturated fats, are good for our hearts, and help keep us full between meals and snacks. Dietary fibers from whole grains as part of a healthy diet may help improve cholesterol levels. This snack is a one two punch of both heart health and lasting satiety. "[I recently saw a twist on this with sweet potato toast – thin sliced sweet potato (the long way) toasted in a toaster. Ingenius!]
How are you celebrating Heart Health Month? I'm going with healthier snacks and exercise, of course!
Have a great weekend, friends!
PS. Don't forget my great giveaways!