Today, I participated in Cycle for Survival for the 6th year in a row. We had an eight woman team of riders on two bikes on our Erica Finds team. Last year, we crushed out $10,000 goal. This year so far, we raised $23,220! We were one of the top teams in our Sunday morning shift and that garnered us bragging rights, awesome swag and a center stage spot!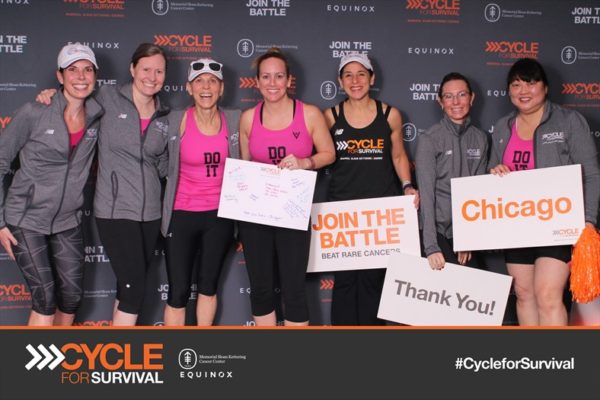 The event total this year so far is over 18.5 MILLION dollars with 20+ more events to go. Since its inception, Cycle for Survival has raised over 125 MILLION dollars in funds that go directly to research and clinical trials at Memorial Sloan Kettering. You can learn more about this awesome event in my post (and there is still time to enter my raffle for 8 great prizes! Ends 2/13 8:00 PM CST).
We had an amazing time at the event again this year. Every year, I wonder how it could get better and it does. As always, the instructors were amazing and the Equinox staff and team went above and beyond any expectation. The rides were challenging but fun. We were encouraged to give our all, to sweat, to dance, to push ourselves to the limit. I smiled my face off as we were encouraged to sing and dance while we sweat and pushed ourselves.
As always, there were wonderful tributes to family and friends and so much hope. A member of the MSK research team shared the advances that have been made because of the efforts of Cycle for Survival riders. One of the initiatives he mentioned was in bladder cancer. Our friend Ivonne Mosquera-Schmidt is a survivor and former MSK patient who directly benefited from this research. Amazing!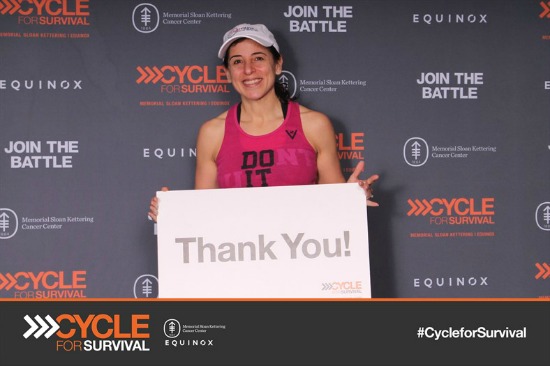 All in all, it was another super fun, energy-filled, amazing event. I am so fortunate to have such great support and friends who join in all of the fun(draising)! Thank you to all who donated to support my team in this event. I encourage anyone who lives in one of the ride cities to check it out for next year (or this year – locations). Again, we wore our Viewsport sweat activated tanks that say Do It -> Don't Quit and Work Hard / Hard Work on the back when sweaty. Perfect for the occasion!
If you are interested, please use these links to learn more about Cycle for Survival or to support my team. Stacy was 100% right when she said it was one of the best days of the year. If you have the opportunity to participate or support, I could not recommend it more highly.
PS. My raffle is open through 2/13 at 8:00 CST. You have to be in it to win it!