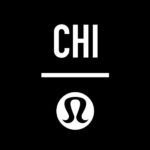 Sometimes you're hit with good fortune and you just have to enjoy the hell out of it! You may remember, in November I was invited by Lululemon Chicago to check out Lululemon's winter run collection. I went to the store, chatted about my running with Beth, tried on all the clothes and walked away with awesome run tights and a cool new yoga top. That was awesome! [See some of my faves HERE.]
What I didn't know was that it was also an "audition" for Lululemon's inaugural Run | ORD Winter Running Retreat. Beth sent me a save the date for a 3 day retreat at the new Robey Hotel in Bucktown. It looked great, so I asked the logical question "how much is it?" The amazing answer was "free" in exchange for testing gear and giving feedback. Um, seriously?!? Yes, seriously! I pretty much live for testing new things and giving feedback, so I said "YES!" immediately.
---
Run | ORD Retreat – Robey Hotel Chicago
The retreat started on Thursday night with a shake out run on the 606 followed by "shopping". Shopping is in quotes because the gear was all FREE! Before the shake out, I checked in and my room had a goodie box filled with snacks, gloves, hat, neck warmer, yoga strap plus a yoga mat and a sweet running back pack.
Before we ran, we mingled and introduced ourselves. I knew Run Ambassador Sean and quickly realized I was connected to several other through various friends. We met the Lululemon Chicago folks, members of Lululemon's innovation and events teams and Goldie who would be our yoga/meditation guru. The purpose of the retreat was revealed to us. Lululemon has upped it's running game. They wanted to check in with some running "influencers" to test winter running gear and hear our opinions on running to inform their running direction.
We took a rainy shake out run and headed to the Bucktown Lululemon store. At the Bucktown store, we each got a bingo card with seven items on it. They pulled our sizes in advance and had us try everything on. I swapped the warmest pants and one long sleeve for capris and a short sleeve. We were wear testing on three runs and it was going to be unexpectedly warm for January in Chicago. After "shopping" we changed and mingled a bit more and headed to bed.
Day 1 Agenda: Breakfast. Run. Eat. Pamper. Eat. Sleep.
We started day 1 with coffee and a light breakfast. Goldie walked us through a meditation practice and gave us a few techniques to try. Then, we geared up for our track workout.
Sean led the workout which was 1.5 mile warm up, 1×800 at 5K pace,1 mile at marathon pace, 1×400 at mile race pace, 1 mile at marathon pace, 1×800 at 5K pace and 1.5 ish cool down. It was damp and a little messy on the path but very nice for January and the workout flew by.
After the workout, we headed over to Soho House for lunch and spa treatments. SERIOUSLY! I picked a speedy pedicure and a head massage. OMG. It. Was. Heaven. We cleaned up and answered questions about running habits, preferences, likes and dislikes. It was an amazing way to de-stress (and for me to ignore the inauguration.)
We headed to Parson's Chicken and Fish for dinner and games by the fire pit. The food was delicious and it was great to relax and get to chat with everyone. We made it a pretty early night because Day 2 started at 6 AM.
Day 2 Agenda: Meet. Yoga. Breakfast. Meet. Travel. Adventure. Lunch. Travel. Down Time. Meet. Eat. Sleep.
Day 2 started at 6:00 AM where we headed to a heated yoga class with Goldie at Zen Garage. Her class is very unique and intuitive. The 75 minutes flew by and I never felt awkward or out of place as I sometimes do in yoga. San Diego friends, you must check Goldie's classes out! [She does lots of awesome run tights, too! Including two at Yogaview in Chicago on March 24 and 25.]
Then, we headed back to the hotel for breakfast and showers to gear up for our trail run at Starved Rock. I'd never been to Starved Rock so I was excited and nervous about the run. I was worried about mud and flooding, because it had been raining for days. We took a bus for the 2 hour trip. We had the option to watch Forrest Gump. I chatted with Kristy and we traded podcasts. She recommends Rich Roll with Daniel Goggins.
At Starved Rock, we dropped our gear and hit the trail. It was unbelievable weather and it felt amazing to be hitting the trails in a short sleeve shirt in January! The trails were pretty muddy and slick in some spots. The leaders stopped every 15 minutes or so for everyone to catch up. We got some great pics! After ~50 minutes, we got on the road for a hilly 3 mile road return to base. It was a fun challenge and pretty messy. Amazingly, no one fell or took a mud bath!
When we got back, we had a nice lunch and a short facilitated session. In the session we talked about the what, where, when, why and how if our running. Then we wrote a note to our (short term) future selves and a thank you note to someone we were grateful for who shaped us as runners. It was a great way to learn more about each other and ourselves.
We headed back to the hotel to clean up. We had time to relax and then headed to dinner. At Antique Taco, we found that the team had invited our "biggest supporters" or people we share our running good news with. When I filled out the pre-retreat questionnaire, I said The Husband was my biggest supported because he's been putting up with my running shenanigans since even before we were dating in 1997. It was such a nice gesture and it was amazing to meet everyone's "people."
After dinner, The Husband joined me at The Robey and we checked out the rooftop bar. He stayed over despite my early wake up. We enjoyed a mini staycation.
Day 3 Agenda – Run. Check Out. Brunch. Depart.
The final day was a long run. The group led by Cheyne ran between one and four 5 mile loops. I was planning to do two loops plus a little. I was having so much fun talking to folks that I got peer pressured into a third lap. I wound up running three loops (15 miles). It was my longest run since the NYC Marathon. I really felt great and the miles flew by. [Cheyne is running a four loop, supported 50 mile run on 2/4 to support iGrow Chicago. You can donate here or sign up to run 1 – 50 miles with Cheyne at Chicago Lululemon stores. More info on Facebook.]
I cleaned up, packed up and checked out. Before brunch, we provided some feedback on our health and wellness habits for the Lululemon innovation team. After brunch, we had a quick debrief and appreciation session. Each person said their favorite part of the weekend. It was very hard to pick just one "rose" for the weekend. I had so many highlights and very few "thorns."
Summary
This weekend was amazing. Every detail was planned to perfection. We received so much attention, gear, food and pampering. It was pretty surreal to get the star treatment. The feeling of community that was created so quickly and with such good will was astonishing. I truly have no idea what I did to deserve this experience but I am so grateful to have had it. I have a new respect for Lululemon's commitment to running and to community. I hope that this will be the start of many new friendships and connections.
Hat's off to the Chicago Lululemon team and Running Ambassadors for a truly unforgettable weekend!
Giveaway!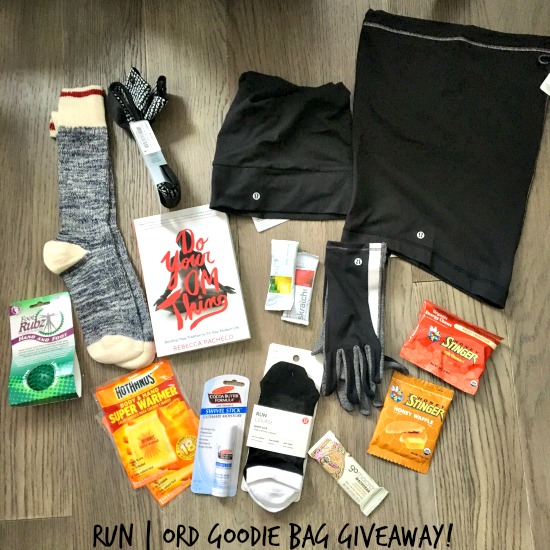 And that's not all! I'm sharing the love. I'm going to giveaway some of the runner goodies that I received. My cupboards are running over with running gear and snacks. I'm going to share most of the items from the box I received when I checked in. I wore the gloves and used the yoga mat strap. I will send one lucky winner everything else pictured above including the Top Knot Toque, Run Course Socks (S/M) and the Run Fast Neck Warmer (Est. Retail Value ~$100)
Want to enter to win? The Giveaway has ended! The winner is #108 Deb E.

To enter, please leave a comment on this post telling me what gear you must have for winter running and what are the most important features you look for in winter running gear.
Want additional entries?
Follow LululemonChi on Twitter and leave me a separate comment saying that you did.
Follow LululemonChi on Instagram and leave me a separate comment saying that you did.
Follow Lululemon Chicago on Facebook and leave me a separate comment saying that you did.
Leave a separate comment telling me which part of this weekend would have been the best part for you – meeting new runners, the gear, trail running, spa, etc.
The giveaway is open to US Residents, 18 years of age or older and is void where prohibited. The giveaway runs through 1/31. A winner will be selected using random.org in order of comment and notified on 2/1.
Have you ever had an amazing experience like this one?

Please note: This post was not sponsored by Lululemon and the giveaway is not affiliated with or sponsored by Lululemon. I am giving away items I received at no cost. All opinions are my own.