Happy New Year! I have a confession to make. I've been holding out on you. This fall, I had the opportunity to test out a bunch of great healthy products. I decided to hold out and to do a "Healthier in '17" series of posts and giveaways to power a healthier 2017 for my readers.
---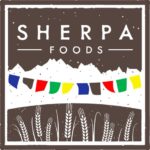 At the last Chicago Sweets and Snacks Show, I met Josh from Sherpa Foods. He asked if I'd ever heard of Tsampa. I hadn't. He told me that it's an ancient cereal from the Himalayas that Sherpas who climb Mt. Everest use for fuel. Interesting! He indicated that it was just coming to market and asked if I wanted to check it out when it did. Of course, you know the answer to that question. He offered to send me some to try and share. Plus, they'll send a lucky reader some Tsampa barley cereal to try, too!
The founders of Sherpa Foods are Tibetan. They were raised eating Tsampa which they were told by their elders is a "strength-giving and health-giving food." They say that "Sherpa mountaineers consider Tsampa essential on their climbs of the world's highest peaks. For Sherpas speed is primary, and Tsampa takes only seconds to prepare and fuels them for the long haul. The versatility and ease of Tsampa make it convenient no matter where you are."
Sherpa Foods' products are good for you and the company does good, too! Sherpa Foods, SPC is a Social Purpose Corporation and a Certified B Corp Pending Company. They're committed to preserving the rich cultural traditions of the Himalayas. Proceeds from every purchase help to provide economic support to the people of the Himalayas.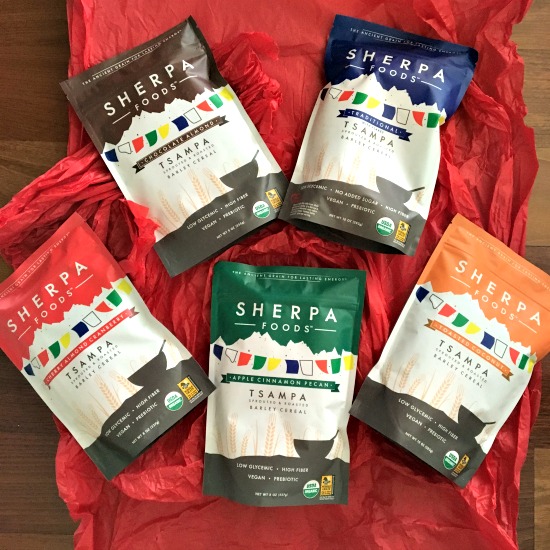 Tsampa is made from sprouted and roasted barley which is high in dietary fiber and beta-glucan.   It's low glycemic and provides lasting, sustained energy. It is also high in non-digestible carbohydrates which make it a prebiotic, too. The cereal has no added sugar and all flavors are vegan, too.
Peak Sherpa Tsampa comes in five flavors. They are Traditional with Flakes, Apple Cinnamon Pecan, Cherry Almond, Cranberry, Chocolate Almond and Toasted Coconut. The Traditional can be made savory or sweet or eaten plain. Tsampa is roasted and doesn't need to be cooked. You can mix it with water, milk or yogurt. You can use hot water like oatmeal if you'd like.
I shared my tsampa barley cereals and tried two flavors. I shared the plain with Amanda and Kristin. Then each of us and Allison took a flavor. We all love that it does not get soggy like oatmeal. The roasted cereal stays firm in milk. It's also nutty and is less sweet than most oatmeal. Allison noted that the Roasted Coconut has less then 1/2 the amount of sugar as instant flavored oatmeal packets. The Traditional has 0 grams of sugar! We all loved the option for breakfast with high fiber and at least some protein. We were also excited that all of the ingredients are non-GMO and organic.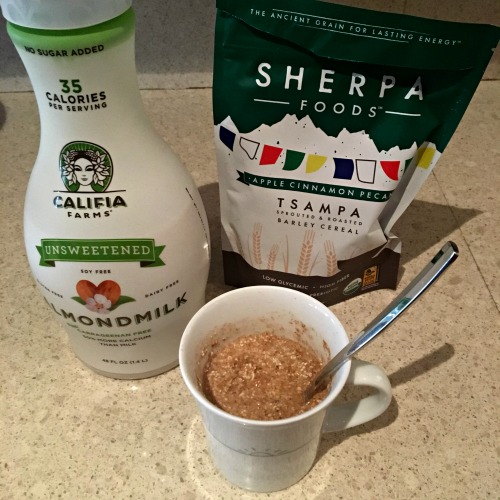 I love the Apple Cinnamon Pecan. I mix it with almond milk. As I said, it stays firm and the apples, cinnamon and pecans are delicious. The cereal is very filling and not too sweet. It's great for pre-workout or to get you through a busy morning. Kristin tried the cereal when she was pregnant. She was excited by how she felt full through her next meal. She though the Cherry Almond Cranberry had a great mix of flavors and textures to complement the cereal, too.
Want to try the Peak Sherpa Himalayan Style Tsampa Barley Cereal?  Sherpa Foods will send a sampler to one lucky reader. Please use the Rafflecopter below to enter. The giveaway is open to US residents, 18 years of age or older and is void where prohibited. The giveaway runs through February 9. A winner will be selected and notified on February 10.
In the mean time, you can get Sherpa Foods' products on Amazon (affiliate link) and in stores. Sign up for their newsletter to get 20% off of your first order. You can also keep up with Sherpa Foods on Twitter, Facebook and Instagram.
Please note: I was provided with this product at no cost in exchange for an honest review and giveaway. I was not otherwise compensated for this post. All opinions are my own.