Happy New Year! I have a confession to make. I've been holding out on you. This fall, I had the opportunity to test out a bunch of great healthy products. I decided to hold out and to do a "Healthier in '17" series of posts and giveaways to power a healthier 2017 for my readers.
---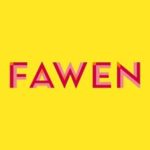 Drinkable soup is the new smoothie. At Expo East, I tried some drinkable soups and loved the idea of a veggie filled, nutrient packed, portable meals/snack. Over the past two years, soup cleanses joined juice cleanses for the detox crowd. Now, I'm seeing more portable soups that can be consumed on the go – just like smoothies. More veggies, less sugar, what could be bad?
Before the holidays, I saw Fawen Soup on Instagram. They were offering free shipping on their new 6-pack variety pack so I ordered one to try. Now, I'm obsessed with it! I've already ordered two more six packs. The nice folks at Fawen will send a 6-pack variety pack to one lucky reader, so read on!
Fawen Soups are plant powered, chilled and ready-to-drink. The vegan soups are packed with vegetables, keep their fiber and contain much lower amounts of sugar than most juices and smoothies. They're made with local, organic and vegan superfoods and contain no artificial ingredients or sweeteners. The chilled soups are ready-to-drink right off the shelf with no bowls, spoons or heating needed. Fawen is a great, satisfying option for folks on the go.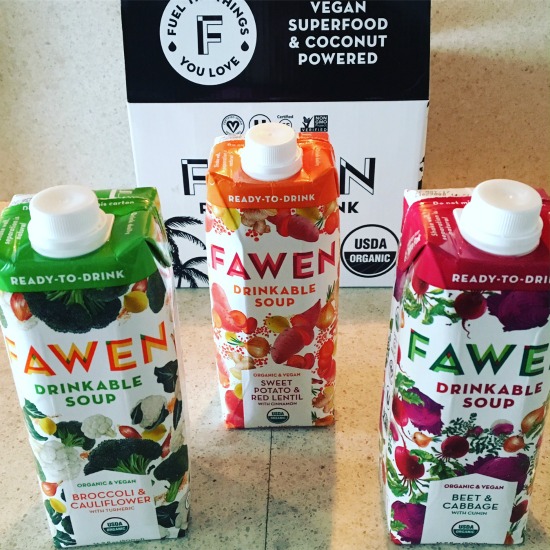 Fawen Soups come in three flavors. They are Beet and Cabbage with Cumin, Broccoli and Cauliflower with Tumeric and Sweet Potato and Red Lentil with Cinnamon. They come in 16 oz resealable, recyclable Tetra Pak  packages. Each package contains two servings with 60 – 100 calories per serving with 5 grams of sugar per serving. All three flavors are certified organic and vegan.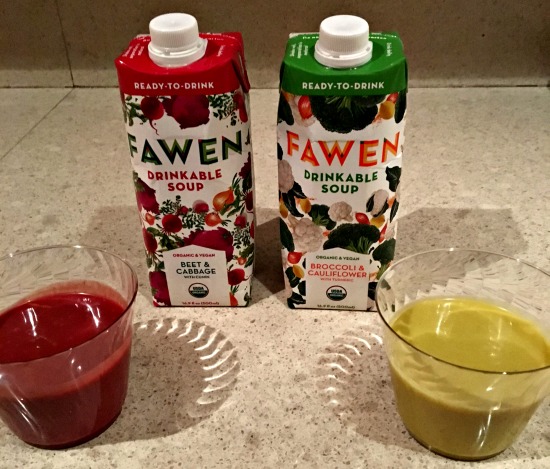 I tried these all within two days of receiving them and I like them all (A LOT). My thoughts:

Broccoli and Cauliflower – I tried this one first and loved it. It has a nice consistency and the lemon and tumeric make it surprisingly refreshing. I liked it chilled and also at room temperature. I didn't heat it but am sure I'd like it warm, too.
Beet and Cabbage with Cumin- I was very pleasantly surprised by this one. I can't really describe the flavor, but it is more like a super charged juice with a not too sweet and slightly smoky flavor. It's like very portable tasty borscht – meant in a good way. I didn't heat this one either.
Sweet Potato and Red Lentil with Cinnamon – I'm a fan of all things sweet potato, so I knew I'd like this one. They say, "this milk shake like treat won't weigh you down." It does taste like a vitamin packed smoothie when chilled and has a sweeter flavor (but only 5g of sugar per serving). I will say I prefer this flavor heated up.
The surprise winner for me is Beet and Cabbage with Cumin. Since I like them all, the variety pack is the way to go for me. You can also get single flavor bundles if you choose to, or you can share with a friend.
Want to try Fawen Drinkable Soup? Please use the Rafflecopter below to enter. The giveaway is open to US residents, 18 years of age or older and is void where prohibited. The giveaway runs through January 27. A winner will be selected and notified on January 28. The giveaway prize will be fulfilled by Fawen Soup.
In the mean time, you can get Fawen Soup online and at a few NYC locations. You can also keep up with them on Facebook and Instagram.
Please note: I purchased this product with no special consideration. Fawen Soup will provide a giveaway prize. I was not otherwise compensated for this post. All opinions are my own.