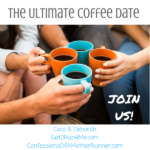 Welcome to the first Ultimate Coffee Date link up of 2017. I am finding it hard to believe that it's 2017, but… it must be. Last year went by in a blink – didn't it? I'm linking up with Coco @ Running with Perseverance and Deborah @ Confessions of a Mother Runner. What is the Ultimate Coffee Date? Imagine we are having coffee together… this post is what I would tell you. So grab a cup , "listen" and then tell me what is going on with you in the comments, please!
If we were having coffee… I'd tell you that it is SO very cold here in Chicago. Yes, I know that it's winter in Chicago, but it is really frigid out at the moment. It looks beautiful from my window. And to be fair, running outside yesterday (it was less than 10 degrees ambient when we went out) was not so bad. It wasn't windy so that helped. Last January, I had three trips to the West Coast and right now I have no plans to be anywhere but here until mid-February. That got me thinking and I enjoyed writing 5 Things I'm Looking Forward To (So Far) in '17 for my Friday Five post. I'd ask you what you have on the horizon, too.
If we were having coffee… I'd tell you that I finally got to some movies after a long hiatus. We saw Manchester by the Sea (fab acting but VERY dark) and La La Land (super fun but maybe a bit overhyped). Yesterday, I saw Sing! with Pam and fave kid-tester Reese to celebrate her 6th birthday. I think the grown ups liked it best. It was so much fun and I loved it. Take your kids or borrow some like me. Heck, you can just go see it. I'd ask for a report on what you've seen, too!
If we were having coffee… I'd tell you that I went to a great goal setting session as part of my A Sweat Life Ambassador Kick Off. I liked the approach a lot. It was basically to visualize the life you want in ten years (very specifically). Then to set career, personal and health goals for 10 years, 5 years and 1 year to support the life you saw yourself living. I am older than most of the people that were present, so I got a bit hung up at first on the fact that I'd be 55 in ten years. Yikes. I also thought back to what I may have said when I was 35. After I got back on track, I realize that this exercise (especially for career) would help me feel more in control of my destiny. [If you are in Chicago, you still have time to join me at ASL's #SweatworkingWeek classes. Get 25% off on any class with code EricaFinds. Learn more here.
If we were having coffee… I'd tell you that I have some more great finds and giveaways coming in my #Healthier in 2017 series so keep your eye out.  I'd ask you if you were trying anything new to be healthy in 2017.
That's all I have for this month! What would you tell me over a cup? Leave some coffee talk in the comments!
PS. Don't miss my great giveaways!