Currently… A post on "things of the moment" for me (#15). [Inspired by Marcia and other bloggers.]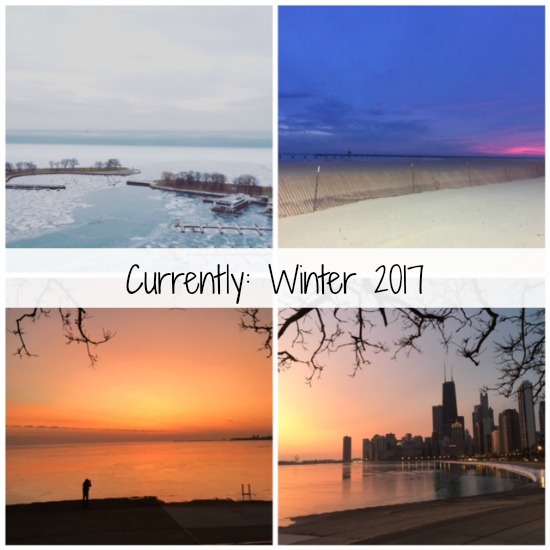 State of things: Winter in Chicago can be tough. It's cold and dreary and the sun rises late and sets early. I did the exercise of thinking of 5 Things I'm Looking Forward To (So Far) in '17 and also to put my 2017 Vacation Bucket List together. That helped! Also, I'm hoping to make some positive professional changes/decisions in the next few months. (Fingers crossed!) All of these things have helped to raise my mood. How are things by you?
Books: Over the holidays, I binge read the Alice Quentin series by Kate Rhodes and started the Paula Maguire series by Claire McGowan. Both of these are about forensic psychologists in the UK. This is my mind candy instead of watching TV. I read/listened via Whispersync on Audible Claire McGowan's The Fall. I loved the Audible version (and right now it's only $3.99!). The reading is really good!  I also downloaded The Underground Railroad by Colson Whitehead and The Unbanking of America: How the Middle Class Survives by Lisa Servon. Lisa is the sister of a good friend of mine from college and a faculty member at Rutgers. Have you read anything good lately? [Please note: this section includes Amazon affiliate links.]


Movies:  We kept up our holiday tradition of seeing the most depressing movie we can find with my MIL and her husband. We hit it out of the park this year with Manchester by the Sea. The acting was amazing, but wow was that a depressing story!! We saw La La Land and then I saw Sing! with Pam and Reese. I liked both a lot, but have to say that I LOVED Sing! It was so much fun. Have you seen anything good lately?
TV: The Husband and I just got up to date with The Affair (not my fave season but still very good). I watched season 1 and the first episode of season 2 of This is Us. Ah-mazing. Feeling all of the feelings on that one. Wow! Have you been watching? Anything else good for us to put on our list?

Website/Podcast: I've been listening to some good audio books from Audible and my usual awesome podcasts. I really enjoyed the first season of Homecoming and the first season of Crimetown from Gimlet Media. I also enjoyed the new season of Start Up about former CEO of American Apparel, Dov Charney's new venture. Have you heard anything good lately?

Run: I was true to my word of taking it easy after the NYC Marathon. It was my 17th NYC Marathon (recap) and one of my slower ones. That said, I had a blast. My goal was to smile from start to finish and I did. There is evidence. I also participated in On Running's "On a Runner's High" Challenge. I was one of 10 runners who received new On Cloudflow's on Thursday before the marathon and wore them for the race. It worked out well, but I wouldn't recommend it as a best practice 😉 Check out the video above – I'm in it at the launch party and after the marathon.
I ran two 5Ks since NYC. One was an XC race the week after (ouch) and one was a super fun course in Millenium Park on 12/31. I cut back on long runs and have been feeling a lot better. Hopefully, my tough races/runs last year were from over training. I rested and ran only shorter distances through the new year. You can see my 2016 running recap HERE.
Non-Run Workouts:  I tried a few new things during Sweatworking Week including FlyBarre and Barry's Bootcamp. I also tried Orange Theory for the first time and started working with a new personal trainer. I'm still doing Pilates once a week. I need to work spin and yoga back into the rotation as well. Have you tried anything new?
Food/Drink: Believe it or not, I'm still working through reviews and giveaways from Expo East in my Healthier in '17 series. I reviewed Frontier Bites, YouTheory Supplements, Tea Squares (enter to win a sampler through 1/16 – 3 winners) and have Soul Sprout, Enjoy Life! and Flapjacked queued up.
I'm currently obsessed with drinkable soups from Fawen (review and giveaway coming on 1/17) and Hungryroot for healthier veggie based choices to clean up my diet. I'm also trying FODMAP friendly Rachel Pauls' Happy Bars, Bruks Bars and new Proburst Bites from EnjoyLife!.
Excitement: Somehow, I got on Lululemon Chicago's radar. I went and checked out their winter running gear and got some to test out. Soon after, I was invited to a 3 day running retreat at the new Robey Hotel in Chicago. Not only is the stay and event being offered at no cost, we get some running gear to put to the test, as well. I'm not sure exactly what to expect, but I am tickled to be included in this "badass" running group. (Their word, not mine!) What's exciting by you?
Pet Peeve: Everything about our President Elect. Everything. It's going to be a long 4 years. What is irking you lately?
Wish(es): I'm hoping that some of the positive changes I'm hoping to make in my career work out and that my fears about the new administration are worse than reality. What are you wishing for?
What is keeping you busy these days? Please share in the comments!
PS. Don't forget to enter my great giveaways.