It's Friday, so I'm linking up with Running on Happy and Fairytales and Fitness for the new Friday Five 2.0.  Their theme this week is "Holiday Gifts." Check out my "Gift Guide for Fit Folks" and my "Gift Guide for Mostly Everyone Else." I'll also be bringing you a stocking stuffer gift guide and giveaway on Sunday.  So, I am off topic again with " 5 Tips to Stay Healthy in Sin City (or Anywhere!)" Why? Because the nice folks at Vegas.com liked my health travel tips and asked me to tackle Vegas. I was up for the challenge and I find these tips helpful not only in Vegas but on ANY trip for fun (or business where there is a lot of post work partying.)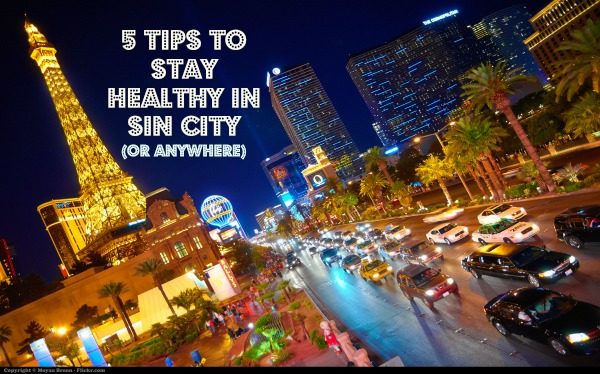 They say "What happens in Vegas stays in Vegas." That's mostly true, but if you go on a bender, get no sleep and eat with abandon, you might end up with more of you than you bargained for. Have no fear! You can still have a blast, enjoy the "sins" and come home feeling pretty good. How?
1. Plan ahead. Pick a hotel that has a nice gym and spa and is in a location that's safe for walking or running. There are some great spas with fitness centers where you can get a day pass, too. Here are some from Vegas.com. Check their deals page for specials on the hotels with spas (and more!) Also, check Groupon and Living Social for spa deals before you go!
2. Dance! Bring shoes that are comfortable so that you can dance the night away AND walk back to your hotel, too.
3. Hydrate, hydrate, hydrate. If you're drinking alcohol, have a club soda with a splash of juice or water in between drinks.
4. Go with some healthier food options. Try some of the healthier food options and bring healthy snacks so you don't get too hungry. Thrillist has a great list of healthy options on and off the Vegas strip.
5. Take a hike. Grab an uber and hit The Red Rock Canyon. Sweat out the toxins and enjoy nature! No time for that? There is an app for that. Use a fitness app like Hot 5 Fitness, 7 Minute Workout or a yoga app to get 15 to 30 minutes of exercise a day if possible. Or do some push-ups, crunches and a minute of plank. Something is better than nothing!
You know what else makes me feel better? Getting a great deal on trips, hotels and activities on vacation. Don't miss great deals from Vegas.com [You can also get 3.5% cash back from ebates on Vegas.com bookings!] if you head to Vegas.
I think these tips apply no matter where you travel. Don't you? Leave your favorite tips in the comments.
Have a great weekend! Dream of warm places like Vegas.
Please note: I was not compensated by Vegas.com for this post. They will share it, though, which is great! There is an affiliate link for ebates. If you register with this link, I will receive a small commission.