I met the founders of Redd Bar at Expo East. [If you missed my jaunt to Expo East, check out my recaps (Day 1 and Day 2).] In truth, by the time I met I them, I was a bit energy barred-out. Then, I saw the sign that said, "Turns out, the difference between slacking and slaying is exactly 2.2 ounces" and I was intrigued.
I went over to see what the deal was. I learned that the founder, Alden, was on a tight budget in school and was also into fitness. He knew that when he ate junk, he felt like junk. He started going to a local health food store and making his own superfood concoctions. He noticed that he felt great. He started bringing his bar/mix to class and launched a dorm room business. After two years of experimenting, he joined forces with a business partner, Reed Allen. They re-branded and refined the recipes. They launched Redd (Research Enhanced Design + Development) Bar.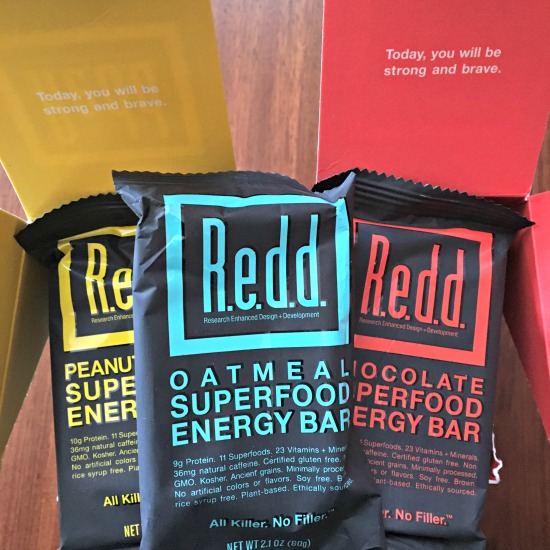 I love the marketing for Redd Bars! Their slogan is "All killer. No filler." And the box affirms that "Today, you'll be strong and brave." Great new mantra!! These plant based, oatmeal superfood bars are high in protein, gluten free and non-GMO. They contain 11 superfoods and 23 vitamins. They include high quality ingredients that are best for performance. Redd Bars contain 36mg of natural caffeine. They are also ethically sourced.
Redd Bars come in three flavors: Chocolate, Oatmeal and Peanut Butter. The bars are dense but chewy. They're moist, taste delicious and are not too sweet. The Chocolate is rich, but not too sweet to eat pre-run or for breakfast. In fact, I had one before the NY Marathon last weekend. Given the late race start time, I had a Peanut Butter one, too. These bars kept me full through the race – even 26 miles later. I am definitely a fan of Redd Bar. These will be in my race bag and laptop bag, as well.
You don't have to take my word for it. Redd Bar sent me a bunch to try and share. I will send two lucky winners one of each flavor Redd Bar to try. Please use the Rafflecopter below to enter. Winners must be US residents, 18 years of age or older and the offer is void where prohibited. The giveaway runs through Friday, November 18. Winners will be selected and notified by Sunday, November 20.
In the mean time, you can find Redd Bars on the web and on Facebook, Twitter and Instagram. Subscribe to Redd Bars' newsletter for 20% off your first order.
Please note: I was provided samples in exchange for a honest review. I was not otherwise compensated for this post. All opinions are my own.