There was so much to say about Expo East that I needed two posts! Here is PART 1.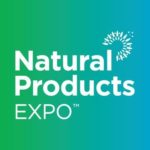 You may have seen my post last Friday on being selected as an "Expo Blogger" for Expo East in Baltimore last weekend. Expo East is the "little sister" counterpart to natural food mecca Expo West. The exhibition part of the show has 1,500+ vendors compared to 4,000 at West. That's still A LOT of great companies to learn about.
On Friday (PART 1), I scheduled a lot of appointments with new (and new to me) brands. On Saturday, I had three and a half hours free to see brands I love and meet new brands. The Emerging Brands area opened early, so I planned to start there.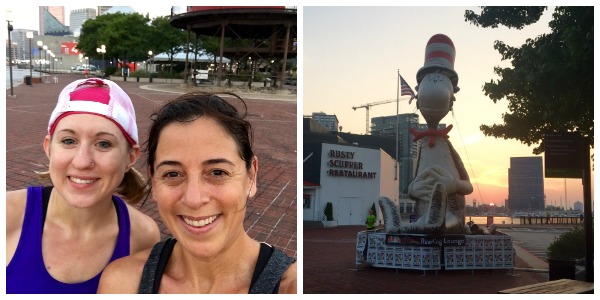 Before I headed down to the show, I got an early start and went for a run with fellow blogger, Lauren. It was so fun to meet Lauren in real life after following her blog for several years. She took me on a tour of Inner Harbor and we chatted about her upcoming Chicago Marathon… and everything else. What a great way to start the day!
I got cleaned up, packed my day 1 loot and headed back to the Expo. The Emerging Brands area opened early, so I went up there first. I was so busy meeting people in real life and chatting with new brands, I barely made it back to the main show floor before it was time to head to the airport.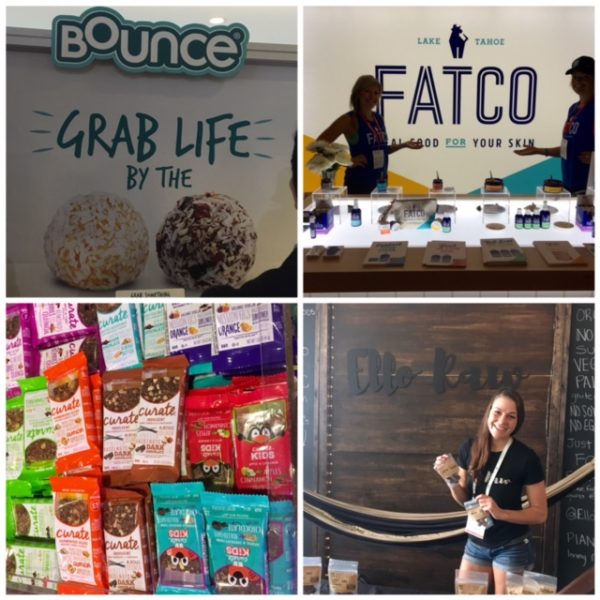 As soon as I got on the floor, I saw the guys from Bounce. I met them at Sweets & Snacks and tried their new flavors. I told them my faves and they gave me one of each to share with readers. I then noticed their campaign (see above) and see what they did there? Hilarious. And tasty. They were next to the gals from Fatco (formerly Fat Face). I mentioned to them that fat was so IN at Expo East – even in the water (see Part 1). They make clean, all natural skincare products with tallow (yup, fat!) from grassfed cows, bison and mutton. I got some samples to share! (Get 15% off at Fatco with this link.) Then, I saw Finds' Fave Curate Snacks (review). I got to meet my gal Peyton in person and to hear about how well things are going. I also grabbed a ton of Curate Snacks and Curate Kids' Snacks to share. I also got the 411 on their seasonal flavor coming soon – Sweet Potato Pecan Pie! I then went over an told Ello Raw that I am obsessed with their Cinnamon Donut Bites. They remembered the social media and blog love I gave them. They gave me a bunch to share, too! (Get 15% off at Ello Raw with code ericafinds.)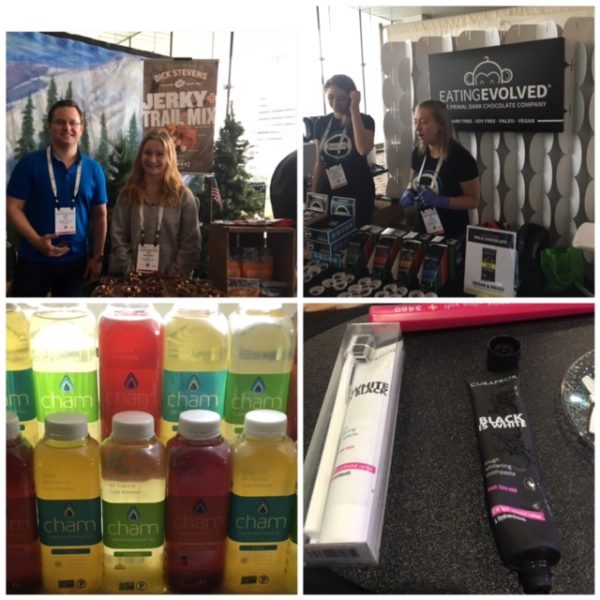 I basically walked down half an aisle in half an hour! Then (in the same row) I saw recent fave Dick Stevens Jerky Mix (review). They gave me some of their new Bison Jerky Mix to try. Yay! Then I swung by to profess my love for Eating Evolved (and since it was still early I passed on the chocolate and delicious coconut butter cups.) This Paleo, vegan, "primal" chocolate is off the hook. I swung by to check out Cham Cold Brewed Wellness Teas because I'd heard about them. Their Defense tea was just what I needed (and it's delicious!) Then, I noticed toothpaste with the slogan "Black is White." I mentioned in my day 1 report that activated charcoal is all the rage. I tried Honeydrop's Charcoal Lemonade. I tried Curaprox charcoal toothpaste, too. The small taste I took was indeed black and tasted like toothpaste. More to come on this one!
The guys from Nature's Nate Honey Co. were handing out honey samples and even gave me a t-shirt for the husband! That was sweet. Pun intended. I noticed Noyah's edible lip balm for babies and beautiful lip sticks for grown ups. The all-natural lipsticks are made with ingredients like Coconut Oil, Shea Butter and Vitamin E. They are non-toxic. They told me that the average woman "eats" a crazy amount of lipstick per year! I got some lip balm to share and found my perfect color "Deeply in Mauve." These lipsticks and lip balms are reasonably priced and eco friendly! I tried #all the flavors of Milton's Local bacon sausages and their bacon. They won the b-school competition and I can see why! If you are a carnivore, buy these when you see them! Riding on the meat train, I checked out The New Primal for some meat sticks, because they invited me on Instagram. I grabbed a bunch to share, too! They also have a new kids line – perfect for school snacks!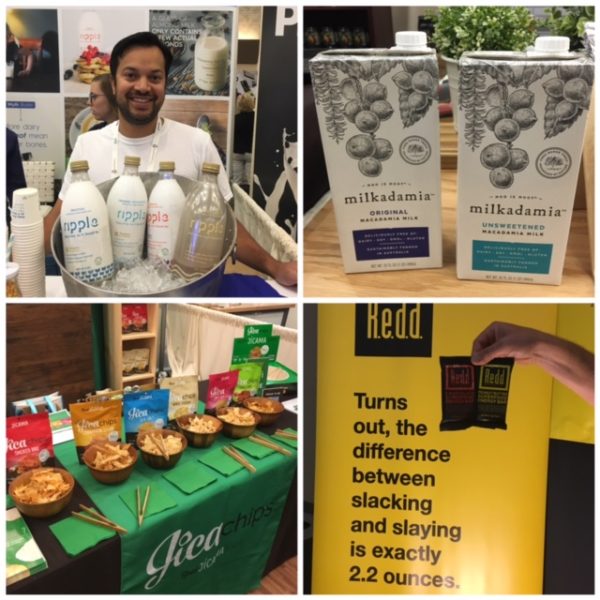 I finally made it into the main Emerging Products area! I ran into a new find – Ripple. It's a dairy free milk made from pea protein. The chocolate is yummy and a great, high protein option for your dairy free kids (or grown ups!) I swung by to see when Milkadamia would be available in my area. I tried this macadamia milk at Expo West. It's amazing. They're out in Oak Brook so I'm going to try to get out to check out the operations! I swung by to congratulate fave Jica Chips on their NEXTY nomination and chatted with the founder on the growth and expansion of the business since my review in 2014. I grabbed a bag to share, too! Next, I met the founder of R.e.d.d. – a new superfood energy bar that's "all killer. no filler." They think I'm a slayer not a slacker. We'll see! I'm excited to try these and got some to share, too!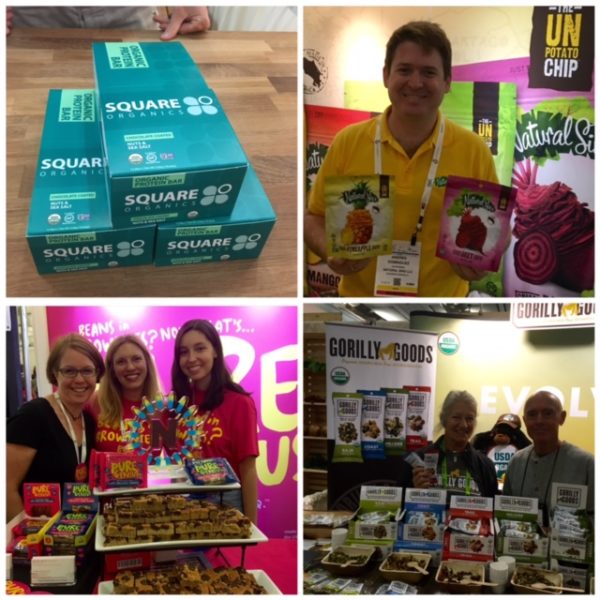 Down the next aisle, I saw some old faves and a new find! I checked out the new flavors and branding on Square Bar now Square Organics and chatted with Andrew a bit. I met Andres from Natural Sins and check out their veggie and fruit "unchips." I got some to share and am planning a full review and giveaway. These are REALLY tasty and so good for you! I saw Chris and Stephen from Gorilly Goods. They shared some of their new trail mixes and some great news! They are partnering with Nature's Path so you'll be seeing them A LOT more all over. They are awesome and so are their snacks so be on the look out! I swung by to congratulate Pure Genius on their NEXTY. I met them at Expo West. They make amazing brownies and blondies with chick peas. They are delicious and nutritious. Try these if you see them!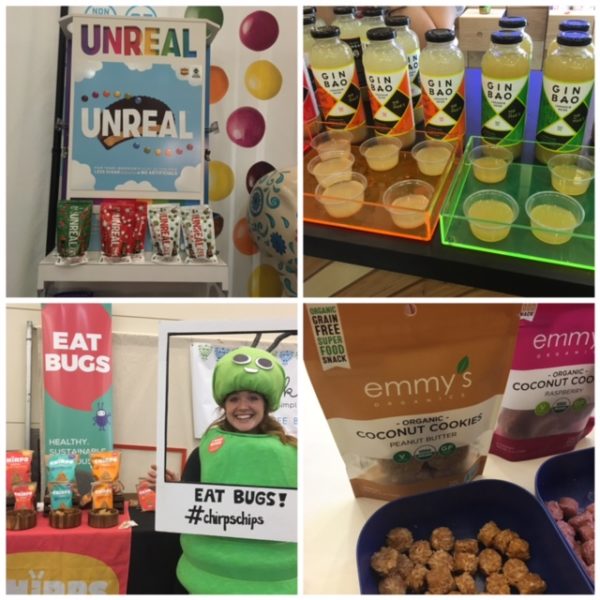 I then swung around and grabbed some Unreal samples and saw their fun Halloween items. Healthy candy? Yes, please! I met the folks from Mr Mak's Gin Bao including Mr Mak himself. This amazing longbrew beverage made of ginger and ginseng is the base of many traditional Chinese Medicine remedies. It comes in three delicious flavors. I'm not a kombucha fan (SORRY – I try and try) but this tastes amazing. It is also good hot. They just launched. I can't wait to see it at stores near me. Next up, I had to stop to chat with Chirp Chips. They make tortilla chips with cricket flour. They are high in protein and come in three flavors. This women owned company is focused on making healthy, sustainable products. Plus, they taste really good! On my way out of the emerging products, I stopped to sample Emmy's Organics new Peanut Butter Organic Coconut Cookies. YUM!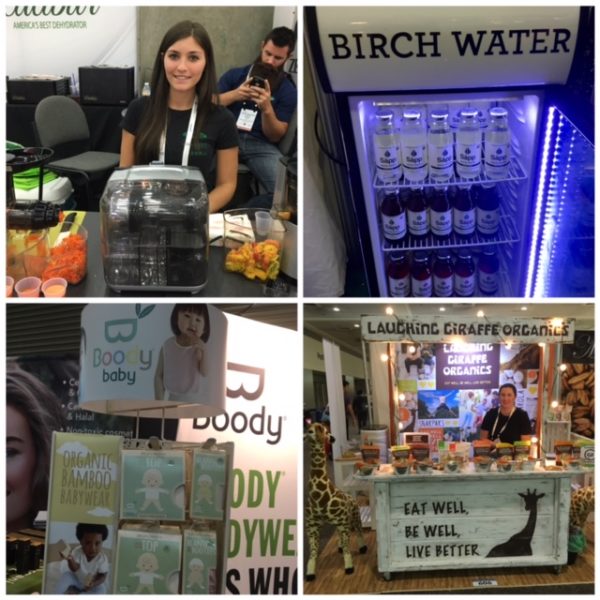 I had one appointment on Saturday with Omega to check out their new Juice Cube. Omega makes a variety of top-line juicers and introduced the Juice Cube – the first cube-designed juicer which stores within itself. It looks really cool and compact. Need a gift for your favorite health nut for the holidays? This would be a good one! I had a little more time, so I chatted with a bunch of folks. On the way out, I swung by and told Sapp how much I love their Birch Water. I scored a bottle of the Nettle flavor. Loved it! I also chatted with the Boody Bodywear folks and found out that one of their Chicago sellers is right by my house! Yay! Their new baby wear line is adorable. On the way out, I visited with Laughing Giraffe Organics and tried their seasonal flavors. Be on the look out! They're amazing.

Being an Expo Blogger had a lot of perks! I got some care packages from Crunchies, Food For Life and Zest Teas. I love Crunchies' new branding and I can't wait to try the grapes. So different! Food for Life Sprouted Breads have long been a fave. I'm excited to try the gluten free line – especially the English Muffins. They sent waffles, too, which are being tested by Abby and Brian. The Zest Teas are "high octane" (read: extra caffeine!) and come in delicious flavors like Cinnamon Apple and Pomegranate Mojito. I'll have full reviews of these awesome items soon (and a giveaway from Zest Tea, too!)
I wish I could have been there on Thursday, too, to meet even more brands and try even more goodies. I know I missed some folks in my recaps and will try to highlight even more awesome Expo finds and trends in the weeks to come!
Which of my Day 2 "finds" are you most excited to try?
Please note: I received free entry to Expo East and was invited to try some of these products. I was not compensated in any way for these comments. All opinions are my own.