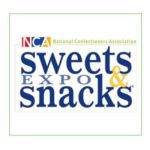 This was my third year attending the Chicago Sweets & Snacks show. In 2014, I worked with Simple Squares (recap) and in 2015, I worked with InBar (recap). This year, I scored a media pass. Cha-ching 😉 They expanded the show this year to include even more healthy and organic snacks and tons of old faves, too! If you are around here much, you know I love healthy and organic snacks. You may not know that I also LOVE candy. This year, I made appointments with mostly the healthy and organic folks and a few candy folks. Everything in moderation – right?
I had one day to see as much as possible. I registered at the press booth and headed down to the main floor. It was HUGE. I tried to get the lay of the land and then I took care of an important item. I got The Husband a pack of Twinkies from Hostess. They run out fast.
I started on a healthy note with The Fruitful Children and their new Perky Superfood Snack Bites. Gil explained that he changed his diet and that of his children for health reasons. Now, he is sharing his healthy and delicious snacks broadly (see video HERE). Perky has simple fruit/veggie ingredients that are gently dehydrated in a 100% wind powered kitchen. They are all natural, Gluten Free, Kosher, Paleo, Vegan, Non-GMO. They taste amazing – like delicious, wholesome fruit roll ups. They are great for runners and athletes to use for fuel or quick energy.
Next up was Gimbal's. This San Francisco candy company got their start in 1898. The now make traditional non-chocolate candies that are free of the eight top allergens. They also use natural ingredients wherever possible. Their five top candies are jelly beans in 41 flavors made with real fruit juice, Cherry Lovers fruit chews made with real cherry juice, Cinnamon Lovers spicy cinnamon candy, Scottie Dogs all natural black licorice and Sour Jelly Beans. It is really cool that kids (and adults) with food allergies can enjoy these delicious candies. I LOVE the Cherry Lovers. I got some jelly beans and other candies to share!
I then went to meet Kathie from SuperSeedz. Kathie started making roasted pumpkin seeds with curry seasoning to pep up her salads. They started disappearing and hers kids and their friends asked for more. Pumpkin seeds have a great nutrition profile and are allergen friendly. They now have nine varieties and more on the way. I can see why these disappeared quickly. Stay tuned for a full review and giveaway plus I got samples to share soon, too.
I went over to Lindt to check out what was new and their beer and chocolate tasting. The beer and chocolate tasting was super popular and it was fun to listen to the chef explaining the attributes of the pairings. For the show, they were highlighting several new items coming this summer including: Hello Emoji Coins – chocolate coins shaped like emojis, Lindor Pumpkin Spice Truffles and Hello Chocolate Covered Cookie Bites. Keep an eye out for these great new products at national retailers near you this summer!
I had an awesome time meet Sequoia from Wonderfully Raw. This business was born of her desire to improve her health after learning that she had Diabetes. She started making delicious raw food treats including coconut macaroons. Many people asked her to sell these and the rest was history. Now, she and her son make four lines of raw food snacks with fruits and veggies that are organic, non GMO, gluten free, vegan, and nutrient-rich. I love the Snip Chips (because… parsnips!) They gave me a bunch to eat and to share!
I stopped over to say hi to Frank from Cookie Pop. This insanely addictive popcorn is covered with Oreo cookie crumbs. Coincidentally, this company is co-located in a building that Dan may work in soon. They have been picked up by Popsugar and were even in Coachella swag bags!  You can find it in many Walmart stores – check the store locator on the site!
I check out the new Peas Please snacks from Peeled Snacks. These are the only organic pea based snacks on the market. They taste like Cheetos but they are good for you! Guilt free, tasty snacks? Yes, please! They are also gluten free, high in fiber and protein. The Southwest Spice is my fave. I have some Garden Herb samples to share, too!
I headed over to meet the guys from Farmer's Pantry. They are currently selling delicious baked Cornbread Crisps in Original and Jalapeno. They are launching a "meal snack" which has a meat snack and dried veggies and croutons. I got an early taste and it was delicious. I can't wait to try the turkey one that tastes "like Thanksgiving." They are made in the USA and each purchase gives back to American farmers. A win-win. I have some Original and Jalapeno Cornbread Crisps to share and trust me, they are delicious.
I swung by the hear what was new from Good Health Snacks. They were acquired by Utz and have been building the Good Health brand and Snikiddy which was also acquired. I love the "Eat Your Vegetables" chips from Snikiddy and got the updates on those and all of the great healthier snacks. I am looking forward to trying some of the new ones soon!
I headed over to meet with Enjoy Life Foods. This Chicagoland company has been doing allergen free foods since before it was cool! I chatted with Carolyn about the products at the show: Plentils, cookies, Chewy Bars and Seed & Fruit mixes. We also chatted about the new baking mixes and some great line extensions that are coming out. Don't worry, I will be in touch with them to get an early look and hopefully taste of what is coming! And, great news, I have a Love with Food Gluten Free "take over" box filled with awesome Enjoy Life products to share coming soon and some sample chewy bars and Plentils, too!
Next up, I checked out barkTHINS. This delicious dark chocolate snack is made with fair trade and non-GMO ingredients. The simple combos are just delicious: Dark Chocolate Almond, Dark Chocolate Pretzel with Sea Salt, Dark Chocolate Coconut with Almond, Dark Chocolate Pumpkin Seed, Dark Chocolate Blueberry with Quinoa Crunch, Dark Chocolate Mint and Dark Chocolate Peanut. They also have seasonal gingerbread and peppermint flavors. The gingerbread is off the hook. They gave me some to share and an awesome tote and T that I may share, as well!
I decided to kick it old school with a "guilty pleasure" meeting with Just Born. You may not know Just Born, but you have to know Peeps. This family owned, Pennsylvania company makes all of their candy in the USA. They make many old favorites including Peeps, Mike & Ikes, Hot Tamales, Teanee Beanies and Goldenberg's Peanut Chews. I loved chatting with them about my love of these candies and my reputation for being able to eat (almost) my body weight in Peeps. Everything in moderation – right? I love the pride that this brand has and the way they have stayed old school and expanded with new and innovative products – like chocolate dipped and sugar free Peeps. They recently launched a partnership with French Chocolatier Cemoi to make some amazing bite sized truffles. Keep an eye out for those and don't worry, I got some Peeps to share, too!
Next up, I headed over to meet Tyler from Project 7. Project 7 makes fancifully flavored sugar free gum and now yummy, gummy bears. These products are non-GMO, made in the USA and contain no artificial flavors, preservatives or colors. They also give back to the community and the world by supporting charities that work on 7 main causes: hunger, homelessness, illness, the environment, education, water and world peace. The story of how these products came to be is amazing and pretty funny. Tyler gave me a slew of gum and gummy bears to share so I will tell you more when I do! You can find these products at World Market and many Target stores.
Finally, I headed over to Epic Provisions. I tried Epic Bars when they first came out. Now with the Paleo craze, meat bars and snacks are all the rage. Epic Bars were the first, and at the time, meat energy bars seemed "really out there" to me. They were delicious then and they are delicious now! They also now have a variety of jerky bites, new bar flavors and snack mixes. They also make other products like duck fat and bone broth now, too! They gave me some new flavors to try and share and I hope to stay in touch to be able to share whatever is new.
There were a few brands that I was not able to visit but that I did/will try. I got to sample the DeMet's new Flipz pretzel snacks in Caramel Sea Salt (YUM!) and their Turtle Eggs won an Innovative New Product – Seasonal award. I am going to check out Lawless Jerky and Dick Steven's Jerky Mixes post show and will tell you more soon, too!
Throughout the day, I also met some new brands and folks and picked up some treats. I loved chatting with the guys from Nots Sunflower Snacks (nut/allergen free snacks), Peter from Toosum Healthy Foods, Panda Licorice, Ferrara Pan, Biena and so many more! I brought home a TON of samples to try and share.
Stay tuned for some great giveaways in the weeks to come! I promise I will share the majority of this haul.
What do you want to try most? What is your favorite candy or snack?
Please note: I was provided with samples at no cost in exchange for an honest review/mention. I was not otherwise compensated for this post. I received a free entry to the Sweets and Snacks show as a member of the "media." All opinions are my own.