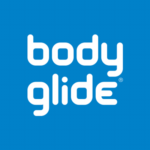 If you've been around here, you know I have been running for well over twenty years. Despite that, I sometimes still make mistakes and need to go back to the basics. If you saw my LA Marathon recap and SLS3 review, you know I got pretty chafed up. Chafing is the such a bummer and it's also preventable. I have tried and liked many anti-chafe products. The first one I ever tried years ago was Body Glide. You know what? It is still one of the best!
Though my relationship with Tomoson, I received a two pack of the original Body Glide from Amazon. I decided to use one and give one away.
Body Glide was "born" in 1996 when I started marathoning. It protects against chafing by creating a "dry, invisible barrier." You can apply it once before activity and it "stops trouble before it starts." You can put it anywhere that skin can rub. It is a stick that is easy to apply with no mess. It washes off easily, too. It works when it is hot, humid, cold or dry. It even works in and under water. The product is made of natural, plant made ingredients. It is fragrance free,  hypoallergenic and it is never tested on animals. It is safe for frequent or daily use. It is the official sport lubricant on the USA Triathlon association and is used by runners everywhere.
They say (and I agree) that "prevention is better than the cure." Preventing chafing "costs less than buying first aid supplies and waiting for recovery." True that! After LA, I had chafing for two weeks and I still have a scar on my hip! I broke out the Body Glide for the Naperville Women's Half Marathon last weekend. It was supposed to be hot. I was planning to wear a Spibelt to carry my phone and keys. I did not want a repeat of LA. I used Body Glide on my hips, around my sports bra and on my upper thighs. I had NO chafing! Yay! No pain or issues at all. There is a reason why this product is the gold standard!
Want to try Body Glide? I will send one lucky person my second full sized stick. And, great news, it is 2.5 oz so there are no issues with carrying it on. It also lasts a long time! I got the women's product a few years ago and it is still going! Please use the Rafflecopter below to enter to win. The giveaway ends on May 5th and a winner will be selected and notified on May 6th. Winner must have a US postal address, be 18 years of age or older and the offer is void where prohibited.
You can get a handy two pack on Amazon like I did and you can also follow Body Glide on Facebook, Twitter and Instagram.

What are your summer plans? Where will you take your Body Glide if you win?
Please note: I received this product at a big discount in exchange for an honest review. I was not otherwise compensated for this post. All opinions are my own. I have been using Body Glide for a LONG time and am happy to share some with you!