Some of you who've been around here a while may remember that Erica Finds started as a deal finding blog. Everyone is good at something. My friends can tell you, I am really good at finding deals! Though that is not the focus of this blog now, I still like to share my shopping smarts! You can check out my general online shopping tips in the post "Become an Online Shopping Ninja."
This time of year, there are more Black Friday/Cyber Monday deals that you can shake a stick at. I like to take a look at a few sites/Twitter feeds that aggregate deals. I also want to share a few non-shopping events that coincide with these shopping days, as well: Track Friday and Giving Tuesday.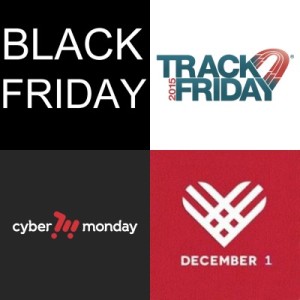 Black Friday.com is "the authority" on Black Friday and holiday deals. Their goal is to make your shopping experience simple and stress free. They feature thousands of deals worth heading out early for, but because many of the deals are available online, you can skip the crowds and save money without leaving the house. Black Friday has all of the official ads for Black Friday and you can sign up for alerts. You can also check out their Facebook page. Here are some "Black Friday secrets" from Good Housekeeping to check out before you go. I am also noticing a ton of pre-Thanksgiving deals. Are you?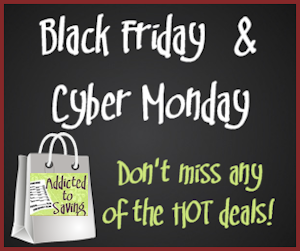 Addicted to Savings is a great deal blog and they take Black Friday and Cyber Monday VERY seriously. She has a whole page for it and a Twitter alert system. Check it out HERE. Brad's Deals had a Black Friday site and a Cyber Monday site, too! Also, in Chicago, check out Time Out's best Black Friday and Small Business Saturday recommendations.
What sites and tools are you using to get the best deals on Black Friday? Cyber Monday?
---

Look who's in this month's issue of @runnersworld mag! It's Eric the founder of #trackfriday https://t.co/OPqGUNbugv pic.twitter.com/xhVkcl92VZ

— Track Friday 2015 (@TrackFriday) November 15, 2015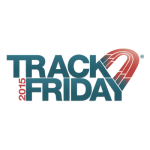 Not interested in shopping? Check out Track Friday. You may remember my friend, Eric R., who created an awesome event following Hurricane Sandy called Track Friday (2013 post.) Basically, Eric urged people to head out to a local track and put in some miles to raise money and awareness for important causes instead of shopping on the day after Thanksgiving. Since 2012, they have raised over $80,000! Eric was recently featured in the "Human Race" section of Runner's World. The call to action is simple. They ask people to "Run or walk any distance, anywhere. Donate or raise any amount for any charity. Spread the word. Make a difference." I just donated to Eric's campaign for the Monmouth County (NJ) Food Bank and will run and donate dollars per mile or lap this Friday, too!
---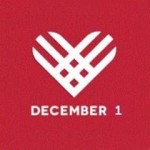 When you are done shopping, check out Giving Tuesday! What is it? #GivingTuesday™ is a campaign to create a national day of giving at the start of the annual holiday season. It celebrates and encourages charitable activities that support nonprofit organizations. We have a day for giving thanks. We have two for getting deals. For the third year, we have #GivingTuesday™, the "giving season's" opening day.
On Tuesday, December 1st, let's talk giving. This site provides links to countless charities and you can learn about their missions and beneficiaries. Check it out and pass it on! Get ready to give back!
---
One tip to remember, on Black Friday and Cyber Monday, don't believe all of the hype. Before you click "buy" on that "amazing" online deal, do a quick google search to make sure that it is in fact a good deal. Then, check ebates (lots of extra cash back deals and coupon codes) and Active Junky for cash back/extra savings! Also check Amex and Paypal for immediate cashback offers when you use their payment method.
Have I missed any tips and tricks that you use? Please leave them in the comments!
PS. Don't forget my great giveaways!
Please note: This post contains some affiliate/referral links and I will be compensated if you sign up for ebates/active junky after clicking on my links.