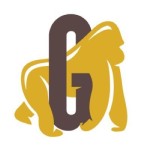 Last summer I tried "Really Goods Snack Things" in a subscription box and wrote the company immediately. Why? They were delicious PLUS they are organic, gluten free, raw, vegan, non-GMO and are made with only real food amazingness. At that time, they were undergoing a re-branding and changing their name to "Gorilly Goods." They recently came out with two new flavors and cool new packaging. I got a pack in my Urthbox subscription. I tried them and got back in touch. They sent me samples of all three flavors plus a 12 pack of snack sized Gorilly Goods (4 per flavor) for one lucky reader.
Founders Christine and Stephen have been perfecting the original flavor for the last 15 years in their various food related ventures. I love their quote in their "about us" section of their website. They say, "What can we say? We enjoy food. We have relaxed off of calling ourselves names — "raw," "vegan," "paleo" — and simply live by understanding the things we have learned in life, making our choices with care and respecting those we are with."  This makes me want to cheer as does the product. They also donate 2% of profits to the Dian Fossey Gorilla Fund.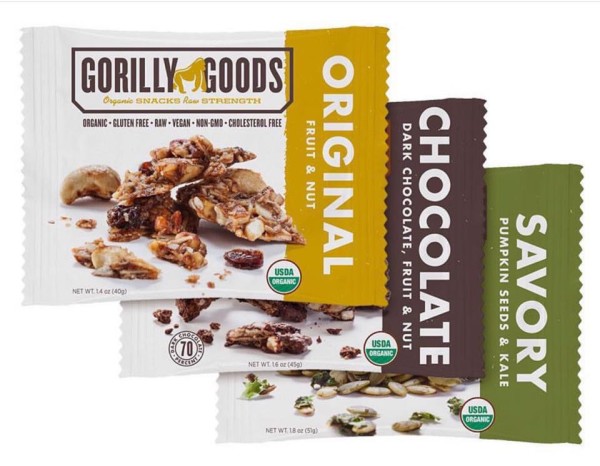 Gorilly Goods come in three flavors: Original, Chocolate and Savory. Original is a blend of organic ingredients including bananas, raisins, cashews, pecans, walnuts, coconut and coconut nectar. Chocolate is a similar recipe with organic Fair Trade raw 70% dark chocolate added in for good measure! The Savory is totally different. It contains all organic ingredients including pumpkin seeds, kale, gluten free tamari, onion, nutritional yeast and cayenne pepper.
My fave is the Original. I love that I can easily identify the foods and flavors. The single serving 1.4 oz package is perfect for people like me who travel a lot. It is nice to have a snack to munch on that is not another energy bar (as much as I love my energy bars!) This tastes like a splurge but the whole food, raw snack is good for you, too. The Dark Chocolate is very rich. I only ate a few pieces and I was satisfied. That is unusual for me. Again, it feels like a splurge but it is super good for you. The Savory is great when you want a tasty, savory treat. The slightly spicy snack is filling and the kale and pumpkin seed combo is really tasty. I would not have put all of the flavors together but I dig it. Again, perfect for my travel snack bag. (Yes, that's a thing!) Plus they have some awesome recipes for greens and broccoli with the Savory "things." Yum!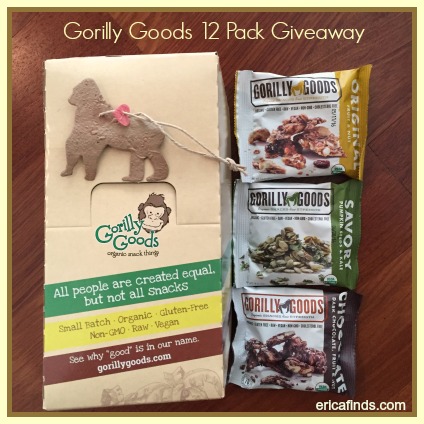 Great news! Chris and Stephen have offered one lucky reader a 12 pack of Gorilly Goods (4 of each flavor in 1.4 snack sized bags.) Please use the Rafflecopter below to enter. The contest runs through November 6th. A winner will be selected and notified on November 7th. The winner must be a US resident (or have a US postal intermediary), 18 years of age or older and the offer is void where prohibited.
Don't want to wait? I don't blame you. Get Gorilly Goods online at an additional 20% off the current sale prices with the code ericafinds. You can also follow them on Facebook, Twitter and Instagram.
Please note: I was given free samples of the product in exchange for an honest review. I was not otherwise compensated for this post. All opinions are my own.