If you are looking for CBS The Talk's Friday Finds, here is the link. I am not affiliated with CBS or The Talk, but I want to give you the info. Please enjoy this post while you are here!
April is here and I have two challenges to tell you about that could help you to feel better and to be a part of something bigger. Bigger and better? Yes, Please!
---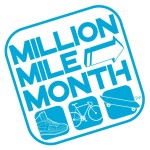 Million Mile Month is a challenge to accomplish one million miles of physical activity, as a community. It takes place every April. You can also participate in MMM community activities throughout the year. Participants can do any event or workout and log their miles in an easy online tracker. The goal is to get more than a million miles logged in April across all participants and groups. It also encourages youth to be more active which is so important!
How does it work? It is just 3 easy steps:
Register (you can register at $15, $25, $50 or pay what you can >$1). All levels include participation in the M3 April challenge, exclusive discounts, entry to Milestone Prize giveaways and M3 Community membership for one year.
Complete miles throughout April (run, walk, bike, yoga…whatever you like).
Log your miles to help the entire MMM community reach one million miles in April. You can connect to Fitbit or Garmin or manually enter your miles.
Register and log your miles and you can:
Win awesome prizes (bikes, gift cards, fitness trackers and more) just for logging miles.
Get recognized for your hard work on the MMM Leaderboards.
Stay Connected year-round to become a Fitness Millionaire™.
Reduce your risk of heart disease and increase your overall health and wellness.
Be a part of a virtual fitness community.
Million Mile Month has a two major benefits. First, it helps to improve the health and wellness of participants and participating communities. In addition, Million Mile Month benefits the 501c3 nonprofit Cyberways and Waterways (CW). CW focuses on eliminating heart disease, improving the wellness of all individuals and educating children about personal health and the health of the world around them. Good stuff!
I signed up – who's with me?
---
You may remember that I did Coach Jenny Hadfield's Holiday Challenge in December. Since it ended, she has continued hosting monthly challenges. I am going to join this month's CHALLENGE: #SpringCleanEating! Coach Jenny says, "April is a transitional season and a time for renewal. It's symbolic for starting new habits, creating new ideas, and refreshing your wellness. This month's challenge is all about keeping it clean and simple by adding in clean foods to your daily eating habits, removing less-than-clean foods, or both!"
I like this challenge because it is flexible. It is "up to you." Some examples:
Add one or more whole, clean foods to your daily regimen (seasonal veggies, smoothie, fresh juicing, cooking your own meals).
Focus more on removing a less-than-clean food (processed and quick) from your daily diet.
Combine both.
The idea is to keep it simple and challenge yourself to make healthier food choices all month long. Let's do this one, too. OK?
---
It's Friday, so here are some great deals for you to check out! Don't forget to check ebates, Coupon Cabin and Active Junky before you buy! Also check Amex and Paypal for immediate cash back offers when you use their payment method.
TODAY only – get 25% off Finds' fave Krave Jerky with code HAPPYBUNNY – ends 4/3.
TOMORROW (4/4), Chicago friends in need of cool mid-century mod furnishings, don't miss Finds' friend Aimee's estate sale in Northbrook. She'll give you an extra 15% off if you tell her you saw the sale here!
Get an extra 40% off online at Saks Off Fifth through 4/7 with code FRIENDS.
Get 25% off purchases of $100 + or 30% off on purchases of $200 at J.Crew stores and online through 4/5.
This weekend, get 40% off of your Ann Taylor order online with code GOSPRING. Get an extra 2.5% cash back if you start with ebates.
Gilt City Chicago has great deals on Finds' faves Farmer's Fridge 2 Day Detox and Green Gourmet Chicago plus awesome deals in other cities and national. New members of Gilt City get 25% off their first purchase with this link.
Get $25 in "Gap cash" for each $50 you spend at the Gap until 4/26 plus an extra 4% back if you start with ebates.
Get $225+ in seasonal finds for $49.99 from FabFitFun – box includes full-size beauty, wellness, fashion, and fitness products – 4x per year. Get FREE shipping and save $10 with code Katie10. (Enter to win my FFF Spring Box HERE)
Get 20% off at Left Lane Sports with code RACESLO20
Save $25 on any purchase from Kore Fit with code START15.
New customers, get $25 OFF your first order of custom women's wear from eShakti.
Ongoing Deals:
Check out awesome, healthy foods The FEED and get $10 coupon good when you spend $25.
Gilt City has awesome national and local deals. New members of Gilt City get 25% off their first purchase with this link.
Get awesome deals for men, women, home and travel on Rue La La.
Check out awesome sportwear deals at Active Gear Up. New customers get $10 off with this link.
Get groceries delivered in one hour from Instacart and get $10 off first order + free delivery. (Plus $5 for every friend you refer up to $25, too!)
One King's Lane is having awesome limited time sales on everything you need for your home and more!
Get up to 50% off on hotel rooms with Travel Pony plus new users get a $35 off credit to use on hotel stays of over $200.
Check out a ton of great sales and coupons on all of your active gear and get cash back with Active Junky.
Check out awesome deals on athletic gear and trips from The Clymb. Act fast deals are up for a limited time. Start with Active Junky to get an additional 12% cash back.
Check out Hautelook. Hello… flash sales from Nordstom/Nordstrom Rack
Do you have an American Express Card? Sign up for Amex Offers for great easy to use offers. Just click and buy and your account is credited
Resolved to get fit? Get 50% off your first outfit at Fabletics. I LOVE mine!
Wishing all who celebrate a Happy Passover and Happy Easter. We have a celebration of a 40th b-day and some much needed down time planned. What are you up to?

PS. Don't forget my great giveaways!
*Please note: This post contains some affiliate/referral links and I will be compensated if you make a purchase after clicking on my links. Some are just good deals I found and shared. Either way, you win!