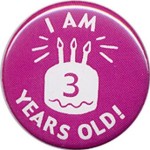 Today, Erica Finds is 3! When I started this blog in April of 2012, I had some ideas but no real idea how the blog would evolve. I posted some deals (a/k/a "finds") and shopping tips. To this day, one of my most read posts is my initial Chicago Area Road Runners Discounts post – that I wrote in week 1. So, I thought "going viral" would be easy. Well… it turns out, it isn't. That said, I have learned some great lessons about what gets attention and what I enjoy writing about – so I do both. Sometimes, I get a lot of "hits" and sometimes not… and that is OK, too.
Here are some of the lessons I have learned (enhanced from Year 2):
1. Write about topics that make me smile, shake my head or make me want to say something. If the post gets limited traffic, at least it is cathartic to write or it makes me smile.
2. Review and give away products that are different, interesting and that I love and want to use. Decline products that I don't feel good about.
3. Collaborate with others – join link ups, giveaway blog hops, read other blogs, post in groups and participate in other bloggers' discussions. I now co-host a Wednesday giveaway link up with my friend Smitha (and have even become friends with her IRL ("in real life.")

4. Be a member of the blogging community(s) – some of my favorite posts are in reaction to or leveraging ideas from other bloggers (imitation is the sincerest form of flattery!)
5. It never hurts to ask. I have approached many vendors about giveaways. I have gotten a lot of giveaways and special promotions (and only a few blow offs). It is always worth asking!
6. Blog posts, like anything in life, can be hit or miss. Sometimes a giveaway for peanut butter can get 1,000 hits in a day, but a great post that I put my heart and soul into can be met with low interest. (Queue the crickets.) I don't take it personally, I try to improve and (sometimes) re-promote the latter content on another day.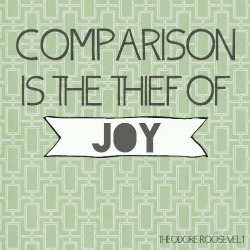 7. In blogs as in life, "comparison is the thief of joy." It is tough to evaluate your blog's performance. I am still relatively small, but I feel like my blog is a "success." That is until I see a blogger with 20,000 twitter followers or with hundreds of comments. Some bloggers who I feel are "like me" have just started. I have to remember that it is not always about numbers. I enjoy my blog and all of the opportunities to try new things and tell people about them. I have made tons of friends and found great connections with people I know (and meet) from the blog. I love doing it – until I get jealous or have FOMO when I see others doing stuff I have not been included in. It is OK to just be me.
8. If it is fun or interesting, try it. If it is not, don't.
Almost all of my most popular posts in the past year have been giveaways. I promote the heck out of them, so I am not too surprised. Here are the "top 10" posts from the last year:
In the past year, I have sampled all kinds of great things from curated boxes from Bestowed, Love with Food, The Feed, Race-Pak, Fit Snack and Vegan Cuts boxes (& many more). I have also purchased many deals and specials and received products to review from so many great vendors. To celebrate my third "blogiversary", I am hosting a giveaway. Well, a bunch of giveaways – see below. I am also going to do a week of daily product giveaways on my Facebook page or Instagram from Simple Squares, Injinji Socks/Infinity Strap, Cocogo, The Yes Bar, Kiss Me Organics and Garden of Life.
And for the giveaway here, I have a bunch of prizes from some awesome sponsors that I have worked with over the last 3 years! You may know that I am on the Peanut Butter and Co Yum Squad and am a member of the Janji Corps. I also am proud to work often with CEP Compression and Nakd. Plus, I am giving away a sampler box of some of my favorite things that I have reviewed/used in the last year. In all, I have five awesome prizes!
The Prizes:
1. Big Six + Peanut Butter & Co. Cookbook The Big Six contains 1 jar of each of the following: Smooth Operator, Crunch Time, Cinnamon Raisin Swirl, The Heat Is On, White Chocolate Wonderful, and Dark Chocolate Dreams. The Peanut Butter & Co. Cookbook, written by PB & Co founder Lee Zalben, has over 70 yummy peanut butter-based recipes for breakfast, lunch, dinner and more! ($47.50 retail value)
2. CEP Compression Progressive+ Run 2.0 Socks ($60 retail value) The only compression socks made by a medical products company with medical grade materials. My man Meb wears these and so do I! Check out Wendy's review of CEP Compression socks HERE.
3. Janji T-Shirt – Long or Short/Men's or Women's – You choose! ($32 -$42 value). Janji is an awesome running clothes company. Janji donates a portion of every sale to organizations who are providing on-the-ground solutions to real problems all over the world. Not only does each purchase provide a tangible relief for hunger and thirst around the world, but wearing the brightly colored clothing helps raise awareness. Plus, you look awesome. Here is my original review post.
4. Nak'd Sampler – One of each 9 Nakd fruit and nut bar flavors; Rhubarb & Custard, Caffe Mocha, Cocoa Orange, Cashew Cookie, Pecan Pie, Berry Delight, Cocoa Mint, Ginger Bread and Cocoa Delight. One of each 4 Eat Nakd Crunch bars: Apple Crunch, Strawberry Crunch, Banana Crunch and Cocoa Crunch. ($16 value) – See my Nakd review HERE.
5. Finds' Faves Sampler Box – includes a 500 ml Ohyo bottle, a RuMe Macro tote, YesTo lip balm, Torie and Howard organic candies, Living Nutz Teriyaki Almonds, Olomomo Cosmic Maple Pecans, an Rx Bar, a Racefood bar, a Fuel for Fire pouch, Big Slice Apples, Sant Superfruit, a Picky Bar and a Theo Dark Chocolate Cherry Almond bar. (over $50 value)
How to enter:  There are a few ways to enter. The more ways you enter, the better chance you have of winning. I am using Rafflecopter for this giveaway. If you already like my FB page or follow on Twitter, etc., click the button and get your entries! Some entries can be done daily – so come back if you'd like more entries. Open to US residents, 18 years of age or older and void where prohibited. The giveaway will be open through 4/26/2015. Winners will be selected and notified on 4/27/2015.
Thank you for reading my blog! Your comments give me great joy! Please let me know what you want me to find in the year ahead and I will do my best!
Please note: I was provided some of the prizes at no cost from these awesome vendors. I was not compensated for this post. I purchased some or received some at no cost for my own use. All opinions are my own.