If you have been around here a little or a lot, you know I have one all time favorite runner. It's Meb Keflezighi, of course! I love Meb's approach, optimism and his humble nature. I love that he defies the odds of age and beats the competition. And, after reading David Cassidy's essay on running with Meb in the 2013 NYC Marathon, he was cemented in the lead as my all time favorite runner. Plus, I met him twice and he was kind and generous with his time. He is a winner in more ways than one!
I was offered the opportunity from Runner's World to check out Meb For Mortals: How to Run, Think, and Eat like a Champion Marathoner. Of course I said "Yes!" I find Meb's advice and interviews to be balanced, humble and helpful. Also, the book translates his approach and lessons learned into advice for runners of all types from beginner to competitive. I was interested to see what I could glean from it!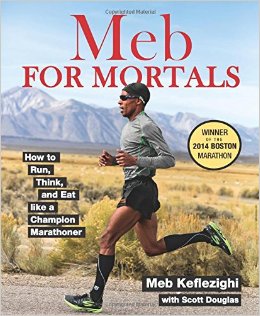 Here is the description of the book from Rodale:
"With his historic win at the 2014 Boston Marathon, Meb Keflezighi cemented his legacy as one of the great champions of long-distance running. Runners everywhere wanted to know how someone two weeks away from his 39th birthday, who had only the 15th best time going into the race, could defeat the best field in Boston Marathon history and become the first American man to win the race in 31 years.

Meb For Mortals describes in unprecedented detail how three-time Olympian Keflezighi prepares to take on the best runners in the world. More important, the book shows everyday runners how to implement the training, nutritional, and mental principles that have guided him throughout his long career, which in addition to a 2014 Boston Marathon win includes an Olympic silver medal and the 2009 New York City Marathon title."
The book contains chapters on how to think, run, train, race, eat, strengthen, stretch, cross train and recover "like Meb."  In each section, the book has how and why Meb does what he does in each area and then how you can apply that in your own running (and life.) I especially loved the "Think like Meb" and "Race like Meb" sections. I could quote sections of his advice all day, but you should read it for yourself.
Meb says something in "The Key to Mental Strength and Flexibility" that makes sense for running and many other things in life. It works for an Olympic champion, Boston Marathon winner or a plain old runner like me – or you. He suggests that you should have more than one goal for every race. For Meb, his "A" goal is to win the race, "B" to get to the podium and "C" could be top American, etc. For me, "A" could be a personal best (or now maybe a Masters' personal best), "B" could be a post-injury personal best and "C" could be my best time for the distance this year. Why set several goals? Well, if your goal is to win or a personal best and you get half way through and you are not going to hit it… then what? You can't just quit. This approach keeps you "fighting to the finish." I really love this advice. Here is how he explains it:
"The idea here is to find the positive spin on whatever the current situation is as a way to keep yourself motivated. When you're coming up with your goals for a race, be ready for any situation. Hope for the best, plan for the worst; that's part of racing. During the race, constantly evaluate how it's going, and be flexible in deciding what your goal is given how the day is playing out.

This in no way means to start lowering your sights as soon as things aren't going perfectly. I fight for each of my goals as long as possible if there's even a slight chance I might achieve it. And after the race, I'm honest with myself about how close I ran to my potential on that day."
Here is a thought that I think is especially true in running and life:
"Not every race you run is going to be a home run. But every race, good or bad, can be a learning experience. Do an assessment after each race. Wait at least until later that day, when the emotions of the moment have lessened. Ask yourself, "Did I give 100 percent? Did I run up to my ability on that day?" If so, hold your head high. What more could you ask of yourself?"
The "eat like Meb" section really resonated with me, too. He says, and I agree, that most people don't need to carb-load or hydrate like crazy for distances shorter than a marathon. If you focus generally on nutrition and hydration, you should be set. I have given this advice so many times! I never "carb-load" for races, or change what I eat in the week before races, except maybe to try to eat less during a taper.
Overall, I loved the tone and spirit of this book and would recommend it to runners of all levels. There are strategies, specific examples, workouts and even pictures of stretches. It is informative and actionable no matter what your running experience is.
You can get a copy here. You can also keep up with Meb on Twitter (@runmeb), Instagram (@runmeb) or Facebook. You can follow co-author Scott Douglas on Twitter (@mescottdouglas), too.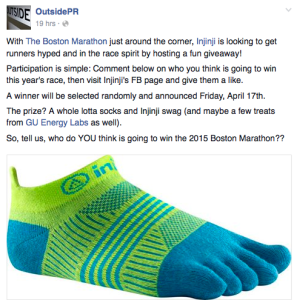 And speaking of Meb… do you think he will win again in Boston? Go to Facebook and tell Outside PR and you have a chance to win an Injinji prize pack. Just like Injinji's FB page, then comment on OutsidePR's FB post with who you think is going to win the Boston Marathon. A winner will be randomly selected and announced on Friday, April 17th.
PS. Don't forget my Blogiversary Giveaway! 5 great prizes. Plus 2 other great giveaways happening now, too!
Please note: I received a review copy of Meb for Mortals at no cost for the purposes of this review. I was not otherwise compensated for this post. All opinions are my own.