I am always on the look out for healthy, convenient foods to fuel my running and life on the road. I tried Munk Pack Oatmeal Fruit Squeezes from Abe's Market's awesome "Try it for $2" program and I contacted them right away to see if they wanted to work with me on a review and giveaway. Why? Well, it was convenient, nutritious and delicious. A trifecta!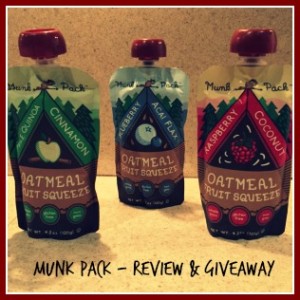 Munk Pack is "driven by the need for convenient, portable, whole food snacks, and inspired by nature." 
They say:
"Our brand centers on the tiny but mighty chipmunk whose adventurous spirit and healthy diet is our inspiration. Chipmunks are curious creatures that love a good adventure, always exploring everything on their path. They are highly selective eaters, with a diet of fruits, nuts, seeds, and grains. Like the chipmunk, we gather only high quality, real ingredients from nature for balanced nutrition on the go."
Munk Packs mix whole grain rolled oats, flax and delicious fruits in convenient pouches. The pouches allow for non-perishable foods to keep without the use of artificial preservatives. Munk Packs are all natural, gluten free, Non-GMO, kosher, vegan and the pouches are BPA free. They also contain high Omega 3s and 3 grams of fiber per pouch.
Munk Packs are now available in three flavors: Apple Quinoa Cinnamon, Blueberry Acai Flax, and Raspberry Coconut. Munk Pack's ready-to-eat oatmeal fruit squeezes are packed with wholesome goodness and ingredients to help fuel your mornings, workouts and life. Some squeeze packs are made for kids. These are made for grown ups but can be enjoyed by kids, too!
I tried all three Munk Packs. It was hard to pick a favorite, but if you twist my arm, I pick Raspberry Coconut. I liked all three flavors and distintive tastes. The first ingredient in each pouch is the main fruit in the title. They also all have gluten free oats (or quinoa) and ground flax and other healthy ingredients. I found these easy to digest for a quick bite before the gym or a run or perfect for post run if I was in a rush. They are great if you are on the road as they do not need to be heated or prepared in any way. Munk Packs would be awesome for hiking or camping or any other on the go activity where you need some energy fast!
You don't have to take my word for it, you can enter to win a Munk Pack prize with (2) 3-packs to try all three flavors – 6 Munk Packs in total ($15 value). To enter, please use the Rafflecopter below. The giveaway runs through Thursday, April 9. A winner will be selected and notified on April 10. Winner must be a US resident (or have a US postal intermediary), be 18 years of age or older and the offer is void where prohibited.
In the mean time, you can visit Munk Pack on the web, Facebook, Instagram or Twitter. You can find them at Amazon or at Abe's Market for $14.99 for a 6 pack. My fave Raspberry Coconut is currently available to try for $2 with free shipping.
Please note: I was provided free products in exchange for an honest review. I was not otherwise compensated for this post. All opinions are my own.