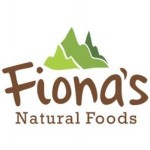 Last year, I tried and reviewed a ton of great products from awesome brands- one of my faves is Fiona's Natural Foods. Last year, they sent me a HUGE box of bars, granolas and trail mix to try, share and to give away. I love the granola and frequently take the Mountain Mix trail mix on the road with me. I wrote them to tell them that I loved their new branding and they offered to send me more products to review and give away. Yay!
Fiona's is a great small company in Boulder, CO that was started by Fiona Simon in 2001. Armed with a family recipe and the desire to create all natural wholesome foods, Fiona's Natural Foods was born. Their mission is "to offer consumers an organic, gourmet product that is superior in taste, texture, quality, freshness, and nutritional value; [they] are committed to baking the most delicious, nutritious granola available anywhere."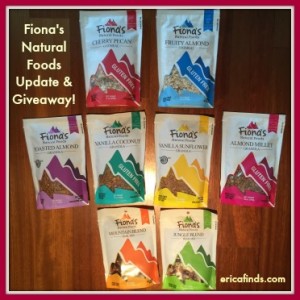 The granola cereals are delicious and they have added oatmeal to the line up! They use only natural ingredients such as organic grains, unsulfured fruit and pure organic agave nectar. They are high in protein and fiber, naturally sweetened and low in fat and sugar. All of their products are wheat free, dairy free, and vegan – several are gluten free, as well.
They offer six varieties of granola that are wheat free, two of which are gluten free: Cinnamon Almond, Ginger Walnut, Toasted Almond, (new) Sunflower Vanilla, gluten free Almond Millet and (new) gluten free Vanilla Coconut. Last year, we tried Ginger Walnut, Toasted Almond and Cinnamon Almond. Several of the flavors have sesame seeds and a nutty flavor which I loved. Sapna loved the Ginger Walnut. Emily said, " I can't remember exactly which flavors I tried, but they were all delicious. Granola is addicting period – but [Fiona's] was really good. It was not as greasy as usual. I ate a bunch plain, some in yogurt, and some in my oatmeal." Maureen liked the subtle flavors and crunch and ate the granola with her yogurt and plain, too. This year, Meryl tried the Almond Millet. She said, "LOVED the Fiona's granola. Eating it as we speak with some greek yogurt and honey. Not too sweet, but rich and tasty. Yum!!!" Our friend, Eric was visiting and he tried the Vanilla Coconut. He said (and I agree) that it is light and delicious and not too sweet. You can clearly taste the coconut and it is nutty. I like that it is not too sweet and that you can really taste all of the flavors.
They also sent two kinds of trail mix: Jungle Blend and Mountain Blend. Both are raw, gluten free, cholesterol free, and vegan. Packed with fiber and protein, and low in sugar, these mixes are "the perfect snack." As I mentioned, I love to bring the Mountain Blend with me when I travel. I was selfish and did not share these with my friends! I did love the 4 oz packs that they used to have. I have to split the new 10 oz bag into three small bags or I will eat the whole thing. Yup, it is that good!
Fiona's stopped making quinoa and granola bars and added oatmeal to its lineup. They make GF Cherry Pecan oatmeal and Fruity oatmeal. Their European style oatmeal is a hearty, wholesome blend of oats, nuts, seeds and fruit. It has no added oil, is raw, wheat and soy free and is vegan. I shared these with friends. Fiona's asked me to tell you that the current directions need to be amended. They recommend less water than was suggested or a longer cook time. I like that they are constantly improving!
Fiona's will send one winner a granola, a trail mix and an oatmeal of his/her choice. Please use the Rafflecopter below. The giveaway will close on March 30th. A winner will be selected and notified on March 31st. Valid for US participants over 18 years of age and void where prohibited.
Fiona's sells their products through Finds' fave Abe's Market and at some stores. The prices are super reasonable especially compared to other natural foods companies- $4.99/12 oz bag of granola or oatmeal and $5.99 for 10 oz bags of the raw trail mix. You can also follow on Twitter, Instagram and Facebook for news and specials.
Please note: I was not compensated for this review. I was provided products to test by Fiona's Natural Foods in exchange for an honest review. All opinions are my own and those of my friends.