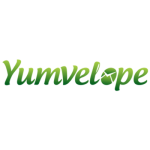 Last summer, I "found" Yumvelope. In case you missed it, here is what I said:
"Sometimes I wonder how many subscription snack services one person can try. No worries, this is a rhetorical question. I liked a new one on Twitter and the magic of Twitter told me to check out Yumvelope. Yumvelope delivers (at least) six full size, small batch, natural artisan products in a padded envelope each month for $21. I contacted them and Sam sent me one to try and to review. Since I [was] doing an elimination diet, I was thinking I would have to give most of it away. To my surprise, there were several products I could try!"
You can see the full review here.
Yumvelope now comes in a box, but they still offer 6 full sized snacks a month and sometimes they have extras! On Cyber Monday, they offered a great deal so I subscribed. Since then, I have gotten to try many new products and enjoyed many Finds' Faves. This month, Sam offered a blogger box for review. Great news for you, I am going to review my subscription box and giveaway the review box with the same awesome goodies!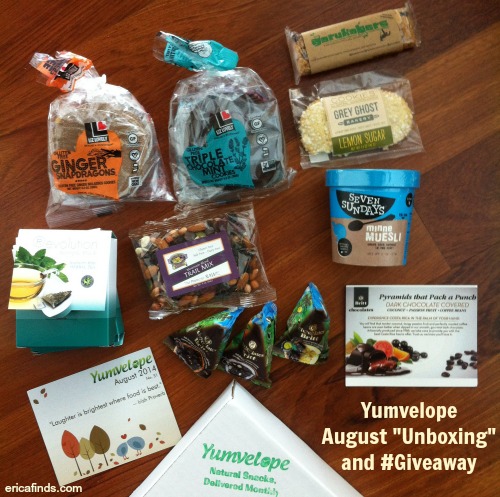 Each box comes with descriptions and the retail prices so you can see if you got your money's worth.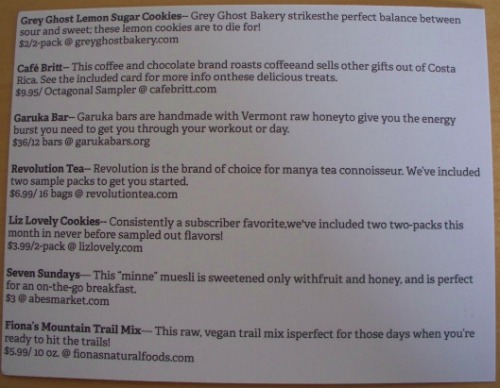 Here is the unboxing. This month, I received:
Finds' faves Liz Lovely Cookies (read my raves here). 2 packages! They are all natural AND gluten free. I LOVE the Ginger Snap Dragons and the Chocolate Mint are delicious, too. Who am I kidding? I never met a Liz Lovely cookie I didn't like.
Another Finds' fave Mountain Trail Mix from Fiona's (more raves here). This all raw trail mix is perfect for the trails, travel days or a mid-day snack. This mix is fresh and delicious. I was so happy to see it here!
A Garuka Bar which is a handmade energy bar made with Vermont honey and 8 all natural ingredients. I have tried these from Yumvelope or another subscription box in the past. They are nutty and sweet and are perfect for hiking or before a long bike ride. They are filling and delish. They are named after a gorilla in Rwandaa and a percentage of the sales goes to gorilla conservation. Cool huh? They will also send you a free sample (limit one per household).
Two sample packs of Revolution Tea in Southern Mint. It is caffeine free, so I think I will make it iced for the afternoon. Mint helps with digestion and relieves headaches,
A Seven Sundays Muesli which I have been dying to try. And, YAY, they have it at Finds' fave Abe's Market and it's on sale now, too!
A Grey Ghost Lemon Sugar Cookie which the husband ate right up. He saved me a little piece. It was sweet and tart and I liked the pearlized sugar on the outside.
Cafe Britt Octagonal Sampler – 3 flavors. All are dark chocolate and the three flavors are coconut (YUM!), coffee and passionfruit. So far we have tried the coconut and the husband and I gave it two thumbs up.
The retail value of the box is over $25 (and in my opinion it gets an A+ for variety and quality!)
Want to win the Yumvelope "Press Box" I received? Use the Rafflecopter below. The giveaway is open to US residents only, 18 and over and is void where prohibited. The giveaway runs through August 31st. A winner will be selected and notified on September 1. Please note, I have not opened the second box, so I am not sure if the flavors are the same.
In the mean time, I recommend Yumvelope. It is one of the subscription boxes I have purchased (without a Groupon or similar) for a full subscription and I will likely renew. They keep finding great new, all natural artisan treats that I love and sharing my favorites again (like Liz Lovely cookies). You can try Yumvelope for one month or send as a gift or subscribe for 3, 6 or 12 months. Or you can keep an eye on them on Twitter or Facebook.
Also, you can enter Yumvelope's double stuff September box giveaway HERE.
Please note: I was not compensated for this post. I received a free Yumvelope box for the cost of shipping in exchange for this review. All opinions on products are my own.