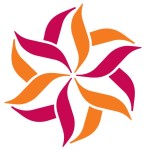 I would normally scoff at driving more than 7 miles each way to run a 2 – 3 mile fun run/shakeout run. That said, I am a big fan of Lauren Fleshman as a runner, a business person and a writer. I love her Runner's World column, her quirky Picky Bar marketing and her personality as it shows through in interviews, etc. When Fleet Feet Chicago announced that she would be the pacer at the Magnificent Mile Women's Half Marathon and the special guest at said fun run, I was excited. Kristin suggested we check out the fun run and the deal was done.
The day before, I got a message on Instagram from Amy S. who said we had to check out Oiselle's #POParazzi contest. To enter, we had to take a photo of Lauren wearing her bright yellow Oiselle "Verrazano" sport bra top. Well, we could totally do that!
We arrived about 15 minutes ahead of the run. There were 150 or so runners milling around including Oiselle flock and Chicago Running Blogger Kelly (and baby P.). We participated in some group photos and strategized on how to get our pics for the contest. As we were planning, we realized that Lauren was right in front of us. Olivia was interested in her cool iPhone holder that clipped to her shorts, so she asked her about it. We chatted about the product and appreciated Lauren's easy going and down to earth nature. We quietly kept thinking on the pics. We walked quite a ways and Stacy suggested I go next to Lauren and take a photo looking back. Suddenly, Lauren was "in on it" and we were hamming it up and "hiding" from the paparazzi. What a kick! Here is the result:
After this, we were chatting about running/walking in NYC and Chicago and we got on the topic of the marathon. Lauren told us that she wants to give it at least one more try because in her first marathon [NYC 2011 with a flying debut time of 2:37] the first 19 went one way and the last 7.2 another. We commiserated with "and that's the marathon." It was so cool to be able to relate even though she is an elite and I am a mid-pack runner. Nothing else needed to be said. Most marathoners can relate to feeling great and then having the tides turn – especially me!
Before we ran, Coach Jenny Hadfield and Lauren gave quick but inspirational advice for the race today. Coach Jenny reminded us to run smart and run our own races. She reminded us that as women we can be hard on ourselves and come across the finish and immediately beat ourselves up for the time or performance. She reminded us to be grateful for the ability to run and to enjoy the experience. Thank you, Coach Jenny. I will try as hard as I can to take this advice.
Then, Lauren told an amazing story. She reminded us that this is the 30th anniversary of Joan Benoit Samuelson's 1984 Olympic Marathon victory. She told us that her mom took her to watch in Los Angeles (where she lived at the time) despite the fact that she was only 3, because it was a momentous occasion for women. She said that she met a woman who ran the first women's Olympic Marathon Trials. That woman remarked on how lucky Lauren and other women runners are today. The luck she spoke of, Lauren told us, was to have role models, heros and a road map for how to be successful. While we may feel that being first is awesome, and it IS awesome, this is a great point. The other really cool thing Lauren asked us to think about is that each and every one of us is someone's hero. We take care of ourselves, we try, we are out there doing it every day. We are role models. We are part of the fabric of women's running and are encouraging others by sharing our successes and failures. So true and a great reminder!
We then went for a sweaty, humid three mile run. I chatted with new friend, Alex, and learned that she is training for her first marathon in Chicago in October. I gave her some advice from my arsenal of good marathon advice that I normally don't take myself. I shared my learnings and was proud to be a steward as Lauren discussed. And, I made a new friend. A win-win.
So regardless of how the race goes, I had an awesome experience at the fun run and got some great inspiration and advice. 
Have you had any unexpected inspirations lately? Please share them in the comments!
PS. Please excuse any errors in the translation of Lauren and Jenny's advice. I was a bit starstruck. We were laughing about the "whole enchilada" comment in my recent NYRR interview and how some quotes are not really quotes at all. I am now more sensitive to this! Any errors are, of course, my own.