So far my "Tried it Tuesday" posts have covered products I have tried, or shared, for review. Today, I am going to tell you about some nutty stuff – coconutty and just plain nutty. Also on tap is a free fitness app I am loving at the moment.
---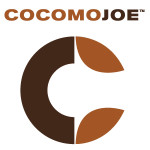 Cocomo Joe Foods had an unusual beginning. Click here to read the details, but the gist is that Joe was down on his luck and had a few tough breaks. He was always a healthy eater, but lamented the lack of healthy food options. He saw some folks on TV start a successful granola business and decided to give it a try. Their mission is impressive: "At Cocomo Joe we make the best tasting and highest quality organic foods available. We want people to spend money on good food now so they don't have to spend money on doctors later. Nothing fun ever happens in a doctor's office."
I saw Cocomo Joe's Joebars on another site and ordered a sampler. I emailed and Joe sent me some Cocomo Corn to try, too! I had a bag and shared some with Amanda. She said, "Delicious. I love caramel popcorn and often end up eating so much I feel ill from too much sugar. This popcorn fixes that problem! All the goodness without the calorie laden, high fat, uber high sugar popcorn. Do they make bigger bags? As a runner, I should follow recommended portion sizes, but come on, it's popcorn…" I agree with Amanda. This popcorn had a unique taste and was delicious. I enjoyed the one ounce serving and did not feel a sugar hangover. I can definitely see needing a bigger bag! To answer Amanda's question, the Cocomo Corn comes in 1 oz and 4.5 oz bags. It is also gluten free, vegan and organic. Good stuff!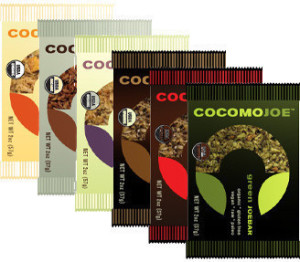 I shared the Joebars I ordered and tried some, too.  Joebars are vegan, mostly raw, organic, gluten free and paleo friendly. Impressive. The bars come in 6 flavors: green, cocoa, fig, cranberry, coffee and mango. The green has spirulina and I found it to be rich and delicious. It was very coconutt-y which I like. I found this very filling and ate 1/2 per sitting. The coffee and cocoa have subtle flavors. I enjoyed both. The coffee was a great post workout pick me up – it has some ground coffee beans in it. I like that these are all natural and low in sugar, too. The best part for me is that they keep me satisfied longer than some other bars I have tried.
Allison is a fan, too. She said, "I think that these bars are like a very chewy, filling, flavorful rice cake. They did not have a large shredded-coconut flakes like I thought it might. I tried the first one (green) when I wanted a snack on my commute home from work – but it was much more than a snack! I ate half of it at the time, and I saved the other half to eat for breakfast the next morning. It was very filling! Overall, really liked this product." She added that the green Joebar was the one she "had to split between evening snack and breakfast. It tasted very healthy (which some people might not liked, but I loved). Strong coconut and almond flavors." She thought that the cocoa Joebar "did not have as much flavor as the green bar, and did not really taste a lot like chocolate (which is a plus for me). I ate this one for a quick lunch on the go with a banana."
You can learn more about Cocomo Joe at their website or follow on Facebook or Twitter. They also make granola (which I still need to try!) and baby teething biscuits.
---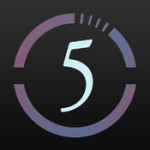 I mentioned Hot5 Fitness : High Intensity Functional Video Workouts with Personal Trainers in my Friday Finds a few weeks ago. If you missed it, here is a recap. The app offers "fast effective workouts for people on-the-go." It hosts a free series of five minute video workouts that you can combine in any way. Whether you have 5 minutes or much more, this app can help you get fit on the go!
There are a wide variety of exercises from beginner to expert, Yoga to Cardio, there's a workout for everyone. You can do 5 minutes at the end of a jog to work your core, 25 minutes of yoga flow in your hotel room or 45 minutes of full body workouts. You get the picture.

It is easy to download a series of 5 minute videos for workouts. The key tells you if it is easy, medium or hard and what you need (mat, dumbbells, etc.) You then select your workout and the app displays each move, and sets the timer for five minutes. The audio tells you what to do and the video shows you. The timer keeps track of the exercise for you. The instructors even encourages you! (Wow – a minute is not short when you do ab exercises!)
I have been using the app every day since I posted about it. I have downloaded a dozen workouts so far and have done between one and four per day since then. It takes 21 days to build a habit. I am on my way! I cannot say enough good things about this app. Totally A+! Perfect for people on the road or unable to get to the gym!
I know Jen tried this app. Anyone else?
---

The giveaway has ended. The winners are: Yoojin and Breanna! See a 20% off discount code for Olomomo at the end of this section!
You may remember Olomomo nuts from my giveaway last year or my 2nd blogiversary giveaway on Facebook. To refresh your memory, their mission is "Be Nutty.  Be Good.  Be Adventurous." Olomomo is an offshoot of The Good Nuts, a farmer's market stand in Boulder, CO. Olomomo (pronounced "o-lo-MO-mo") means "Momo's world" and refers to the nutty adventures of "Momo" the monkey. Their roasted nuts are a micro-batch, premium, high-energy, amino acid and protein-rich snack. They are also gluten free and the company strives to use sustainable packaging, organic and fair trade ingredients.
Olomomo has four original flavors of almonds: Chai Bliss, Mango Chipotle Zinger, Cherry Vanilla Dream and Righteous Cinnamon Cayenne. I first tried the Cherry Vanilla Dream and Chai Bliss (apparently a favorite of astronaut Charlie Duke – the 10th man to walk on the moon according to their CEO Justin!) at an event. I loved the sweet, nutty flavors. After receiving the samples, we tried the Righteous Cinnamon Cayenne and Mango Chipotle Zinger. I like all of the flavors, but I was surprised to find that the Mango Chipotle Zinger are my favorite – the husband, too. They have a great kick and are very satisfying! They also make delicious Garam Masala Pecans. Amanda tried some Chai Bliss Almonds and said, "These don't so much taste like chai, but I am in LOVE. Seriously, in love. They are sweet, but not overly so, and have a lovely vanilla-cinnamon crunch to them. The "almond" factor of course makes them guilt free."
Great news, Olomomo has a new flavor – Vim and Vigor  Salt and Vinegar Almonds. They sent me some to try and they will send 3 winners one 4 oz bag of almonds and a hat or Olomomo T-shirt. I love this new flavor. It may be my new favorite! I am going to raffle 2 prizes (1 bag of Vim and Vigor Salt and Vinegar Almonds and hat or shirt) here and one on my Facebook page in the next few weeks.
Want to WIN? There are several ways to enter:
Leave a comment on this post telling me which Olomomo flavor is most interesting to you.
Like Olomomo Nut Company on Facebook and Like Erica Finds on Facebook. Leave a separate comment telling me you did.
Pin this post or share it somewhere. Leave a separate comment telling me you did.
The giveaway runs through Tuesday, May 20th. I will select a winner with random.org based on comment number on Wednesday, May 21st. Winner must be a US resident and the giveaway is void where prohibited.
If you want to buy Olomomo Almonds, you can get 20% off if you sign up for their newletter HERE. Trust me, you'll be glad you did.
Please note: Olomomo products were provided to me at no charge in exchange for this review. All opinions are my own and those of my reviewers.
---
That's all I have for now! What have you tried lately?
PS. Don't forget to check out my Runner's bloghop giveaway and my Miracle-Gro Home Depot Card giveaway!