Today for "Tried it Tuesday," I tried a bunch of great new products that I won in giveaways or was sent because of my role as an Ambassador. What is better than that? Well, I am going to share some of my spoils with 3 lucky winners. With no further adieu, here are some "better" versions of products you probably use pretty often.
---

As an Ambassador for Sweat Pink, I was asked to try out a sports drink from Vega's Vega Sport line as part of their Fuel Your Better Campaign. The campaign provides tons of resources and social media links to help athletes to improve performance and live a healthy lifestyle. Good stuff!  This line is "the first all natural, plant-based performance enhancement system specifically developed to help athletes perform at their best – before, during and after training and competition." The product line is plant-based, vegan, gluten free and soy free and contains no artificial flavors, colors, or sweeteners.
I tried the Vega Sport Sugar Free Energizer.  I was super impressed with the ingredient list. I tried the Energizer before and after running. I found it to be tasty and not too gritty. I tend to put more water in than is recommended so that the flavor is a bit milder. This has a nice taste. The flavor is Acai Berry. I thought it was citrusy bit that could be because of the orange color. There is a bit of stevia in the drink, but it did not taste like it was artificially sweetened. I found that the drink sat well and I felt good while working out. I would be comfortable drinking this before a race or long run.
I got a box of 30 so I have a few left to share. Check out the giveaway at the bottom of the post. You can keep up with Vega on Facebook, Twitter or Pinterest.
---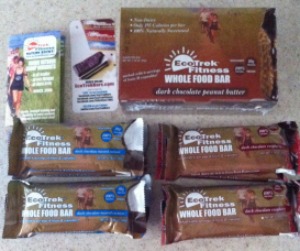 I won a 6 pack of EcoTrek bars in a raffle pick for participating in a VegRunChat on Twitter. Cari from EcoTrek Fitness, a company that takes clients outside for fitness activities – even in winter in Michigan, partnered with a company producing healthy protein-packed bars for her customers. She helped them to reduce the calories, make the bars vegan and dairy-free and including only gluten-free ingredients. Now she sells them to the general public, too. (Yay!)
EcoTrek Fitness Whole Food Bars come in 3 flavors: Dark Chocolate Toasted Coconut, Dark Chocolate Peanut Butter and Dark Chocolate Raspberry. Each flavor contains the nutrients of "6 servings of fruits and vegetables." They all have 10 grams of protein, as well, with only 195 calories.The nutrition profile is awesome because of the "Superfood Blend" (Beet Juice, Concord Grape, Blueberry, Pomegranate, Acai, Spirulina, Aloe Vera, Barley Grass, Soy Lecithin [98% Oil Free], Fructooligosaccharides, Inulin, Chlorella, Wheat Grass Powder, Wheat Sprout, Red Raspberry Leaf, Spinach, Hydrilla Verticillata Root, Nova Scotia Dulse [Purple Seaweed], Mangosteen, Parsley, Protease).
I won a box of my choice and picked Dark Chocolate Peanut Butter. Cari was awesome and she sent me a bunch of the other flavors to try, too. I am so glad she did, because I LOVED the Dark Chocolate Toasted Coconut. It seemed like such a treat to me. It was like a Mounds Bar BUT it was good for me!! Stacy and I shared the Dark Chocolate Raspberry and we liked that one a lot, too. It has freeze dried raspberries and you could totally taste the real fruit. Surprisingly, the Dark Chocolate PB was my least favorite. That said, I liked it alot and given a choice would pick it over many other energy bars I have tried. All really good!
I will send a few of these awesome bars to a few lucky folks who win the Rafflecopter at the end of the post. Keep up with Eco Trek Bars on Facebook and Twitter.
---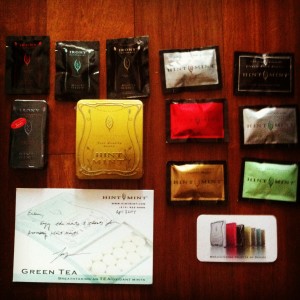 I tried Hint Mints in a couple of my subscription boxes, so I looked them up and loved their website. I wrote to them and they sent me a bunch of mints to try and to share.
You should go to Hint Mint and read their story. They were a $1M company within one year! Pretty amazing. Hint Mints are vegan, gluten free and kosher. The Peppermint, Licorice and Green Tea flavors are all natural. The other flavors may contain artificial ingredients. Their packaging is very unique. They come in large, or small, sleek tins. They also have an Artist Series with beautiful tins (you can refill them!) and they have an "Awareness Series" where all profits go to the selected charities.
The mints come in Peppermint, Cinnamint, Pomegranate Acai, Green Tea, Chocolate Mint, Licorice Mint and Citrus Ginger Sour. The Sugar Free "Irony" line comes in Peppermint, Chocolate, Cinnamon and Pomegranate Acai. The mints are mild and unique. My favorites are the Chocolate Mints, the Citrus Ginger Sour, the Licorice Mint and the Sugar Free Cinnamon. All of the flavors have a nice taste and texture. I love the style of the tins and the branding. These mints have flare! I love the idea of including these with gifts or as favors. Very distinctive.
Hint Mint sent me a dozen tins of the new Citrus Ginger Sour Mints and lots of other samples. Check out the giveaway at the bottom of the post. You can keep up with Hint Mint on Facebook or Twitter.
---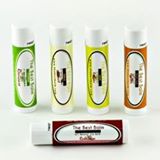 Renicare makes "The Best Balm", an all natural lip balm that is made in USA and comes in 5 great flavors (Cranberry-Pomegranate, Lemon, Orange-Berry, Spearmint, and Vanilla). I won two 5 packs in an online raffle. I tried some and am giving some away!
The best balm gives dry or chapped lips long lasting moisture. It is paraben free, petrolatum free and phthalate free. It also has a 100% money back guarantee. The balm comes in 5 different flavors and is made with only shea butter, bee's wax, sweet almond oil, Extra Virgin Olive Oil, jojoba oil and flavor oils. I love a product like this where I can identify all of the ingredients. The balm goes on smooth and keeps lips moisturized for a few hours or more. I like the flavors I tried. This would be a great option for kids and teens.
I am going to include a Best Balm with each of the prizes. You can keep up with The Best Balm on Facebook.
---
Three lucky winners will get a mini-prize pack each with Vega Sport Sugar Free Energizer, EcoTrek bars, Hint Mints and The Best Balm (and some other Finds' Faves thrown in, too!) Use the Rafflecopter below to enter. Open to US residents only who are 18 and over. Void where prohibited. The giveway ends 5/28. The winners will be selected and notified on 5/29.
PS. Don't forget my other giveaways!
Please note: I was not compensated for these reviews. I was provided with products in exchange for review (or won them). All opinions are my own.