If you follow a gluten free diet, you may be looking for healthy on the go snacks and energy bars. SBI Brands, the parent company of NOW (No Opportunity Wasted) Foods, who make Manuka Newtons, also makes the Nogii line of gluten free bars. They sent me the new "Paleo" bars for review. They say, "Nogii Paleo bars are formulated to appease even the fussiest palate and purest of Paleo diets. With All-Natural, High-Quality ingredients Nogii Paleo bars are a convenient source of Paleoriffic foods, that give you a No Compromise solution to your Paleo Diet."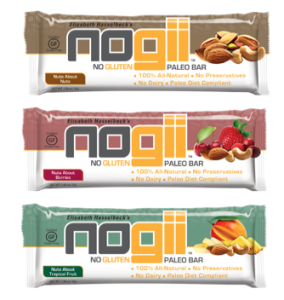 These come in three flavors:
Nuts About Nuts (which simply contain Almonds, Dates, Cashews, Honey, Sunflower Seeds, Pistachios, Safflower Oil)
Nuts About Berries (containing Dates, Honey, Organic Cashews, Almonds, Apple Juice Sweetened Cranberries, Sesame Seeds, Dried Unsweetened Tart Cherries, Sunflower Seeds, Unsulphured Dried Apples, Freeze-dried Strawberries, Strawberry Juice Concentrate, Organic Sunflower Oil)
Nuts About Tropical Fruit (Dates, Honey, Organic Cashew Butter, Almonds, Sunflower Seeds, Organic Dried Mangos, Unsweetened Coconut, Cashews, Freeze-dried Bananas, Unsulphured Dried Apples, Organic Freeze-Dried Pineapple, Sesame Seeds, Organic Sunflower Oil)
I don't follow the Paleo diet, but I do try to eat whole foods, so I was happy to try these bars. I found that the Nuts About Nuts had a nice mild flavor. It was not at all sweet. It was great pre-long run for me with a banana. I did not feel hungry and it did not cause me to crave sweets which some bars do. I also liked the Nuts About Tropical Fruit bar. It is very coconut-ty which I like so you would have to like coconut to enjoy it. This was much sweeter due to the dried fruit. I am a fan of dried fruit, too. I did not taste the Nuts About Berries. I think I accidentally gave those all out to my tasters. Cliff liked the mix of fruit and nuts and the tartness of the berries. Other testers thought that these are similar to Larabars and that they had a "good bang for the buck calorie-wise." Brian actually said these reminded him of Larabars, but he "liked them better!" I like the size and nutritional information on these bars a lot and will definitely get Nuts About Nuts for pre-run fuel.
The nice folks at SBI have offered to send one reader a box of NoGii bars in the flavor of their choice. Please use the Rafflecopter below to enter – don't forget to claim entries if you already like/follow my social media channels. Giveaway open to US residents, 18 and over and is void where prohibited. The giveaway will close on April 15. A winner will be selected and notified on April 16th. Prizes will be fulfilled by SBI Brands. Please allow 2 – 3 weeks for delivery.
You can follow NoGii on Facebook or Twitter to keep up with new products and promotions.