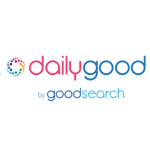 Well, you know I love shopping and that I love companies that do good. Well, check out Daily Good – a new shopping site that helps you do good and get great deals at the same time! Even better, this site offers more than shopping, you can support your favorite causes when you do online searches, eat out, plan travel and more.
Here is how it works, you pick a cause you care about and they give money to your selected charity based on your online actions. They work with large national organizations like The American Cancer Society and The Nature Conservancy, to local ones like high schools and animal shelters (if your cause isn't listed, you can add it here. Then, as you go about your daily activities, you'll be raising money for that cause – at no cost to you! You can watch the dollars add up right here on the site. And, as you share your actions with your friends, you can inspire them to also make a difference every single day.
The three primary ways you can earn money for your charity of choice are through searching the Internet, shopping online and dining out:
Goodsearch: Search the Internet with their Yahoo!-powered search engine (just like you'd search on any other search engine), and they'll donate about a penny for nearly all searches to your selected cause. (It adds up!)
Goodshop: Shop at one of the more than 2,800 participating stores (from Amazon to Zazzle) and a percentage of what you spend will be donated to your cause at no cost to you. Oh, and by the way, there's a big added bonus here too. Goodshop lists more than 100,000 coupons and deals so you could save money while doing good! A WIN-WIN!
Gooddining: Dine at one of the 10,000 participating restaurants around the country and a percentage of what you spend will go to your cause – again at no cost to you.
There are other cool things you can do, too, like:
I think this site is so cool! I will definitely be using it and posting deals from here from now on! And Girls on The Run Chicago will benefit!
---

Want another way to do good with your holiday shopping? Check out  Janji for all of the runners on your list! This summer I won a contest on Debbie's blog  for an outfit from Janji, an incredible running apparel company that enables runners to give back by purchasing running gear. Mike and Dave, both avid runners, started Janji in the Spring of 2012 with the mission to harness the philanthropic power of the running community not just on race day, but every day by providing running apparel that would "give back."
Janji, which means "promise" in Malay, donates a portion of every sale to organizations who are providing on-the-ground solutions to real problems. For example the purchase of a the purchase of the Rwanda shirt provides 3 days of nutritional medicine to a malnourished Rwandan child by funding the group MANA Ready to Use Therapy Food. Not only does your purchase provide a tangible relief for hunger and thirst around the world, but wearing the brightly colored clothing helps raise awareness. The new winter line supports Tanzania. Purchasing Janji's Womens's 1/4 Zip Pull-Over gives one year of drinking water to a person in Tanzania.
I won the Haiti running top and shorts. They were a bit big and when I emailed Janji, they sent me a new Haiti top to try out. It is perfect! And a portion of the proceeds from this line provides nutritional medicine to a malnourished child in Haiti.
You can shop Janji HERE. And find them on Twitter at @RunJanji and on Facebook HERE. I think this is such a cool company to check out, I am going to offer two Janji prizes in a giveaway: One winter running hat and one running T-shirt of the winners' choice. There will be two winners. Winner must live in the US and be over 18; void where prohibited. I was given the t-shirt for review and won the running outfit. All opinions expressed here are my own and I will furnish the prizes for this giveaway. Winner will be selected and notified on 11/20/2013.
What do you think of Janji's concept? Seems like a no-brainer to me!
---
And some holiday shopping deals for you to check out:
I am not sure what rock I have been under, but check out Brad's Deals. This Chicago based deal aggregator has a zillion coupons and deals. Sign up for the newsletter to get updates daily. For instance, get 20% off + Free Shipping Shop with this Brad's Deals exclusive Bloomingdale's promo code to get 20% off fashion and home items and 10% off electrics and electronics. Plus, enjoy free shipping on all online orders (expires November 17, 2013) coupon code BRADSDEALS20.
Get $5 off of $60 on discounted gift cards at Raise with code RAISE60AF or sell some of your unwanted ones for extra $$!
Now through November 24th, bring a used sweater or coat to Anthropologie and get $10 off a full priced sweater or coat
Get 10% off on Liz Lovely cookie samplers with code SMALLTALK. Click here to enter a survey to win *The Sugar Coma* Gift Sampler (only 4 questions – a no brainer!!)
Great deals from Klutch Club:
Save 40% at Tory Burch
Last chance for 50% off on natural beauty products from YES To at Gilt City (and lots of other great local and national deals!)
Buy One $100 Gift Card and Get 20% Off Your Second Gift Card of Equal Value at Spafinder with promotion code TAKE20
Get an extra 30% off on clearance boots and an extra 20% off on shoes at City Sports through 11/13 with code FALLCLEAR (and free shipping over $75, too!)
Plum District has $12 for a year subscription to National Geographic for "Little Kids" – ages 3 – 6 and much more!
Sequential dates, like today…11/12/13, are limited, just like the ModCloth 14% off sale going on for the next 24 hours! Head over to ModCloth and take a look at some of their unique items that are in this super fun and super rare sale: ModCloth's 11/12/13 14% OFF SALE!
 That's all for now! Happy 11-12-13! It's a chilly one here!
PS. Last day to enter my Get Up and Go Caffeinated Brownie giveaway – you know you want them!!