Some time ago I mentioned a free meditation series from Deepak Chopra and Oprah. I made it through one week of the two week program and have not meditated since. It is one of my goals to meditate (unplug, be calm, etc.) and I have not found a way to cultivate this healthy habit. Well, here is my chance (and yours, too, if you are interested. Deepak Chopra and Wild Divine are offering a free 15 minute per day series to help kickstart a meditation practice.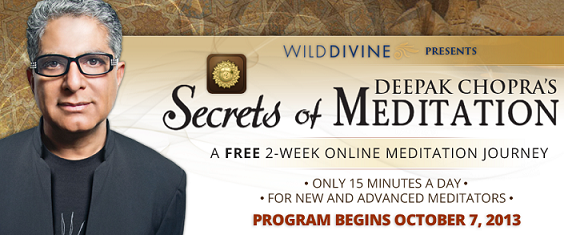 I like their message:
"You will discover that it's perfectly OK not to feel calm and centered after each meditation session. Through Deepak Chopra's Secrets of Meditation, you will learn how to achieve a more enduring state of calm, even when you aren't meditating.This all-new program features so much more than your typical guided meditation experience. In less than 15 minutes aday, you will also learn the inspiration and meaning behind that day's audio meditation, allowing you to take your meditation practice to new, deeper levels and bringing you closer to discovering your true self. After Dr. Deepak Chopra guides you through that day's audio meditation, use our online journal to reflect on your experience and your journey."
This is a FREE program and you can sign up now. (It started yesterday – so you will be one day behind!)
Is it only me who can't get with the zen program here?! I did the first 15 minutes again! 
---
You know I love Kid President and SoulPancake.  With all of the craziness in Washington, it is easy to get bogged down. Kid President's new video suggests that we "take back the internet" and help the homeless in October "starting with socks." Here is the video (watch it!)

SOULPANCAKE and KID PRESIDENT want "one million people to prove that even the smallest acts of love, like donating a pair of socks, can make a big difference in the lives of the homeless" in Socktober.
HOW TO GET INVOLVED:

STEP 1. SERVE THE HOMELESS IN YOUR NEIGHBORHOOD!
Start a new sock drive! Better yet, gather up socks and other basic essentials your local shelter might need as they prepare for winter. Never connected with your local shelter? Find one here: homelessshelterdirectory.org

STEP 2. GET YOUR FRIENDS INVOLVED!
This is a great project to do as a family, with your school, your workplace or your next door neighbors. You can even post this flier at your local school or distribute it in your newsletter. Set a goal. Set a deadline. Make it happen!

STEP 3. SPREAD THE WORD!
Share how your community is serving the homeless by using the hashtag #socktober! We'll help you spread the word too. We want to spread stories of love and hope all month. Make it happen on Twitter, Instagram and Facebook. Our mission is to get one million people involved! Your voice is vital.

STEP 4. DONATE THE SOCKS!
When you're sock drive is done, take the socks to your local homeless shelter. (Find your local shelter at Homeless Shelter Directory).

STEP 5. SHARE YOUR STORY!
Film yourself or take a photo of you dropping off the sock box and share the video on social media with the hashtag #socktober or email it to socktober@soulpancake.com.

IN PARTNERSHIP WITH:
Take an Extra 10% off your order with code SOCKTOBER at SmartWool.com! Offer valid 10.1 through 10.15!

WANT TO DO MORE?
If you'd like to make a monetary donation, we're teaming up with a special team of volunteers in Little Rock, Arkansas to specifically help them as they work to care for the growing homeless population in their neighborhood. THE VAN is a mobile homeless care unit that takes many of life's most basic needs out to homeless camps, alleys, under bridges, and anywhere else it can go to meet needs. Donations are made to: The One, Inc., a 501(c)(3) non-profit organization committed to meeting the needs of the growing homeless population in Arkansas. All donations to The One, Inc. are tax deductible.
Click here to donate and click here to read more about the project.
I love this idea! I have a bunch of new socks that I have been hoarding planning to give away. I think I know what my next RAK is! I got some awesome toiletries at a race this weekend to donate, too!
---
Check out these great deals I found so far this week:
Gilt City is doing a "best of" sale – act fast! I got $40 for $80 of awesome local artisan groceries at Artizone (Chicago and Dallas only). I also got a deal at Hutch in Lakeview and the have Pure Barre in Chicago, too. What do they have in your city? Go check!
Get $30 off of $75 or more on great athletic gear at Zozi with code BIG (plus free gift if you buy 3 items – limited quantities) through 10/9.
Get great deals on Brooks Athletics and lots of great stuff for home, moms and kids at Zulily.
Get 30% off $100, 35% off of $150 or 40% off of $250 at Banana Republic with the code BRFALL (ends 10/8) and get 30% off at Piperlime with code FALL (ends 10/18).
Get $60 credit for $30 or $30 credit for $15 at Yes To Carrots from Plum District.
Check out these October coupons at Whole Foods.
Save on summer flights with One Travel –  Save up to $15 with code DEAL15 or save up to 35% on US hotels and get an additional $10 off with code USAHOTEL.
Save 40% on 100 Blooms of Spray Roses at 1800-Flowers or save $20 on fruit bouquets with the code SAVEFRUIT20 (where available) Save 40% on 100 Blooms of Spray Roses just $29.99! (Reg. $49.99).
Make a video about NuGo REAL Dark Chocolate protein bars, and you could win 365 NuGo bars. That's a bar a day in 2014! The winner gets to choose the flavors. For a limited time, everyone who enters this NuGo video contest gets a free box of NuGo bars! Limit one free box per household.
Still Available:
Get 20% off on your first purchase from Fabletics – the new athletic clothing site from Kate Hudson and the folks at JustFab (Get BOGO on 1st shoe purchase and all shoes $39.95!)/FabKids.
Feeling lucky? My Beauty Bunny and Wantable have a great Stella McCartney tote giveaway that includes $500 of cruelty free make up!
Print this coupon for buy one get one free sandwiches at Einstein Bagel through 10/15.
New customers to Modcloth get $20 off of $50 purchase (and $20 shopping credit for each friend they refer, too!). Check out fun finds for fall and great sale items, too!
Save 20% on purchases from Costume Supercenter ! Find your most amazing Halloween costume yet with more than 20,000 costumes and accessories to choose from and free shipping/free returns! Use promo code HUGE20.
Need a vacation? Get 10% off on your Luxury Link trip purchase with code EBATES10 (plus 3% cash back with ebates.)
SpaWeek is coming 10/14 – 10/20 get $50 spa treatments at lots of spas across the country! Click here for locations. Plus, get $10 off on a $50 gift card in honor of spa week – go to the Spa Week home page and click the banner. They also have a bunch of giveaways now, too!
Get a head start on your Christmas and Holiday gifts by creating your own Blurb book and save 20% from October 1 through October 7 with code EARLYBIRD20!
Get 20% off everything (excluding Super Fleece) and free shipping at Champion USA through 10/10.
Chicago ladies (and gents), don't forget you get $10 off your first service at Pretty Quick with code ericafinds through 11/1.
That's all for now! Find anything good lately?
PS. Don't forget my Garden of Life RAW giveaway!