There are two major things in the news today that I have been trying to learn more about: the implications of the government shutdown and the new state and federal health care exchanges. I found some helpful infographics to share that provide a good high level summary of these important events.
Will the Government Shutdown Impact You? (International Business Times)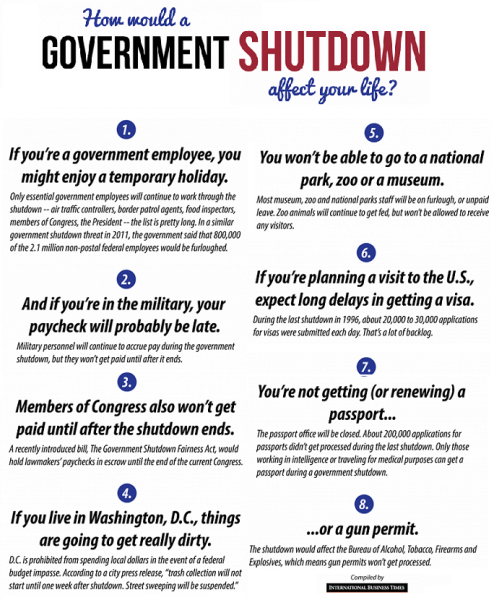 What about the post office? Nope, the post office is a separate governmental business unit. It will not be impacted according to this helpful FAQ from USA Today.
Health care exchanges and the Affordable Care Act are at the core of the arguments on the budget. Here is another helpful infographic on exchanges – they open for business today with coverage starting January 1, 2014!

If you are like me, you probably still have questions on all of this! Here is a good Q & A with more information on the exchanges from the NY Times and a guide to how the Affordable Care Act may impact you from the Wall Street Journal.
What do you think? I think it will be interesting to see what happens with the exchanges! I hope for the sake of the government employees and military that the shutdown is brief.

---
Well… that was some serious stuff. Here are some deals to lighten the mood!
You know I love chances to win! Like TrekSta on Facebook and give your email for a chance to win their shoes. One winner will be drawn each week.
Get 30% off at Land's End and free shipping over $50 with code GRAND and PIN code 2055
Gilt City is doing a "best of" sale – act fast! My fave is already sold out!
Get FREE Coconut Water Cleansing Wipes w/ Purchase of Beauty Set at Pacifica
Lifebooker Loot has $25 for $50 on beauty products from Beauty Sage online and lots of other great deals in metros throughout the US!
Save 30% on all Trilogy Skincare products and get a $52 Value Free Gift at Beautorium.
Get discounted gift cards at Raise and new customers get $5 off $60  with code RAISE60AF.
Get $6 Custom T-Shirts (Adult or Kids) + Free Shipping (plus 20% off site wide) at Vistaprint through 10/4. To make this deal even better, you can upload your own photo at no additional charge. With a price like this, you can upgrade Vistaprint's new "SignatureSoft" material, which is only $3 extra.
Need a vacation? Get 10% off on your Luxury Link trip purchase with code EBATES10 (plus 3% cash back with ebates.)
Amazon Local has a great deal on a Chicago Cupcake Tour – only $19 (save 62%), lots of great local deals and 60% off canvas wrap prints + free shipping from Canvas Lifestyle. 
SpaWeek is coming 10/14 – 10/20 get $50 spa treatments at lots of spas across the country! Click here for locations. Plus, get $10 off on a $50 gift card in honor of spa week – go to the Spa Week home page and click the banner. They also have a bunch of giveaways now, too!
Get a head start on your Christmas and Holiday gifts by creating your own Blurb book and save 20% from October 1 through October 7 with code EARLYBIRD20!
Get 20% off tickets to Hubbard Street Dance Chicago's Fall Series,October 10-13.  Use code CAC when ordering.
Check out great sales and deals at Pacifica on natural beauty products, candles and items for the home. Get a free sample with every $30 order & free shipping on $50+.
Get 20% off everything (excluding Super Fleece) and free shipping at Champion USA through 10/10.
Get 30% off on natural beauty products from YesTo with the code YESTO30. Bundles not included
You know I am a bit addicted to subscription boxes. Get 2 months free (pay shipping only) of new gluten free subscription box from Taste Guru with code 2FREE.
Chicago ladies (and gents), don't forget you get $10 off your first service at Pretty Quick with code ericafinds through 11/1.
That's all I have for today. I can't believe it is already October. This year is flying by! What do you have going on this week?
PS. Don't forget my CEP Compression giveaway! 4 winners will be picked! Also, today is the start of Caitlin's Random Acts of Kindness month. My first act will be… something spontaneous. I will let you know!