As I have said before, eating healthy on the go can be a big challenge – especially for breakfast. And now since I am eliminating gluten, eggs and dairy for the short term, healthy "on-the-go" breakfasts (well any breakfast for that matter) can be a challenge. I found two really great options recently. Even better, I have some giveaways so you can enter to win some, too! Check out Kate's Real Food Bars and Papa Steve's "No Junk" Protein Bars.
---
I saw Kate's Real Food Handle Bars at my local coffee store, the Coffee and Tea Exchange, and wrote to them to learn more. Kate was a ski bum in Idaho when she started making "real food bars" to power her skiing. She called them "Tram bars" and shared them liberally with friends. They finally convinced her to sell them and she started her company, Kate's Real Food. They now have a mission which is to strive to provide great food products made with ingredients from responsible, organic farms, and to promote "playability" for all. "All for play and play for all!" They advocate for "Real Food. Real Energy. Real Good. Kate's Real Food. Real people. Real Play. Real Living." Sounds great to me!
Kate's Real Food sent me two each of the Handle Bar and Tiki Bar and I bought a couple Stash Bars. The Tiki Bar is considered gluten free. They others contain no wheat ingredients but are not guaranteed gluten free. All of these contain no dairy ingredients or eggs. The bars are all natural and use organic ingredients.
The Handle Bar is dark chocolate cherry almond – it has tart cherries, dark chocolate, and almonds. It has only 8 ingredients. It is "loaded with nothing but delicious, real food energy." This bar does not disappoint. It tastes like one of my awesome baker friends made it fresh for me! The tart cherries add the perfect balance and the bar's not too sweet. It is nutrient dense, filling and so tasty.
The Tiki Bar is made with coconut, mango and cashews – it "brings the beach party to your taste buds." This bar is peanut, dairy, soy and gluten free (not certified) and is hand mixed. This bar is super tasty and great for a long hike or pre-run. It is nutrient dense. It is a great option for my elimination diet! It was the sweetest of the three I tried and probably the one I would be least likely to eat for breakfast. It would be a great afternoon snack from hiking or traveling.
The Stash Bars is peanut butter dark chocolate with flax & hemp. They say, "this nutty flavored bar will keep you fueled and satisfied for hours". It is all natural and organic and the flax seeds give you an added boost of omega 3 and antioxidants.  I ate this bar pre-20 mile run and it was delicious and kept me full! I could taste and recognize the individual ingredients in this bar and loved the combo, too. This was by far my favorite of the Kate's Real Food Bars!
You can keep up with Kate's Real Food on Facebook or Twitter.
One lucky winner will receive 3 bars (one each of the Handle Bar, Tiki Bar and Stash Bar) from Kate's Real Food to try! Enter with the Rafflecopter at the end of the post!
---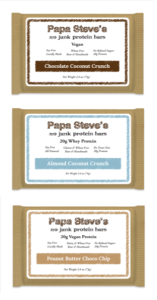 I saw Papa Steve's Bars on Twitter and looked them up on the internet. I liked what I saw! Steve was a "fat kid" who got fit and wanted  a meal replacement, healthy snack or recovery bar that he could "feel good about eating." He started making some bars himself so that he would not be eating "a bunch of processed junk." His family makes them by hand in a certified kitchen.  These high quality whole food bars were designed by an athlete and are made in small batches with all natural gluten free & organic ingredients. They do not dehydrate the bars or use preservatives or add any sugar. The "no junk bars" are made and packaged fresh each week by hand and shipped to customers directly.
Steve sent me three bars: one Vegan Chocolate Coconut Crunch, 0ne Almond Coconut Crunch (this one has whey protein so Stacy got to test it) and one Vegan Peanut Butter Choco-Chip.
The Vegan Chocolate Coconut Crunch is gluten free and vegan. The protein is from pea protein. The coconut and chocolate are raw and organic. It also has hemp, pumpkin and chia seeds. It is non-GMO and there are no sugar alcohols. The bars are cut in four pieces which makes them easy to eat and, to me, it feels like it lasted longer! The bars are perishable, so I enjoyed this one cold straight from my refrigerator. This was nice and chocolaty, but not too sweet for breakfast time. It was pretty filling, too!
The Vegan Peanut Butter Choco-Chip also is gluten free and vegan. It has pea protein and peanut butter as well as some dried fruit and other organic ingredients. I ate this bar for breakfast at a business meeting where there were no other options that worked for my diet. It was SO delicious. It is large and comes cut in four pieces. It is nutrient dense and kept me full through to lunch. This is definitely a meal replacement bar, not just a snack, though I could see eating one or two of the pirces for a snack. Like Kate's I could taste the ingredients and name them. This was definitely my favorite of the two I tried.
Stacy tried the Almond Coconut Crunch. This is similar to the Chocolate Coconut Crunch but contains whey protein and almond butter instead of pea protein. She "loved the chocolate coconut" flavor and also enjoyed it cold. She said that made it seem like a real treat to her.
You can keep up with Papa Steve's on Facebook or Twitter.
One lucky winner will receive 3 bars from Papa Steve to try! Enter with the Rafflecopter below!
---
I loved the all natural, real food feel of all of these bars. These felt like real, wholesome breakfasts to me, because they are! I also love the small companies who got their start based on trying to fuel a healthy life and are now sharing the love. Bravo to Kate and Steve for great products! I am grateful to them for sharing with me to share them with you. My cup runneth over at the moment with goodness. In the next few weeks I will have a review/giveaway of yummy nuts from Lush Gourmet Foods, energy bars from goMacro and  Journey Bar and some non-food goodies from CEP Compression and Janji, too! Stay tuned! But for now, enter this giveaway!
Please don't forget to click the green button on each entry you choose. If you already like my page on Facebook, or follow me on Twitter, click that button on the Rafflecopter and get credit! The giveaway is open through the end of the day on Monday, September 30th. I will select and notify winners Tuesday, October 1st. One prize per winner – winner selects prize from available options in order of draw. Only valid for participants in the US at this time.
PS. Don't forget my Liz Lovely cookies giveaways!
Please Note: Kate's Real Foods and Papa Steve's provided free products to me for review and giveaways. As always, all opinions and comments are my own or those of my friends.