Thanks to all who entered my CEP Compression Give Away!
The winners are:

1. Emily – she chose Women's Compression Shorts to wear while she works on her speed this season.
2. Mahala – she chose Running Compression Socks to help her sore Achilles as she trains for the Austin Half!
3. Amy – she got the Mediven Comfort Medical Compression stockings for recovery and travel (and she was psyched!)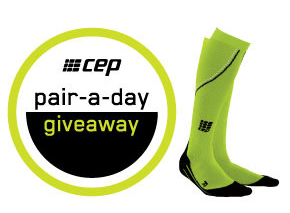 Disappointed? Don't be! There is still a chance to win! "Like" the CEP Compression page on Facebook and enter the "Pair a Day Giveaway". They are giving away one pair a day through March 6th!

OK – so you KNOW I am down with the curated box phenomena fad thing. I love my BlissMo boxes, my KlutchClub, Nature Box (get first month for $5 with code NEWYEAR – FYI) and have posted on a ton of other options for those more beauty minded than myself. I also got a Gilt City deal for CakeStyle – a style box (as I need all of the help I can get) so I will keep you posted on that.
There are a few curated boxes for athletes. I tried FitBox and I cancelled it after a few tries. I really don't use that many energy drinks and supplements. I like some all natural energy bars and the old stand bys like GU and Honeystingers for my long runs and races.
I was contacted by KonaKase to see if I would be interested in telling you all about their boxes for endurance athletes. Who are these guys? Their goal is "to simplify your life. Well, maybe not your whole life, but at least your endurance life. No more trips to store, searches online, or recommendation requests to friends. We think your time is better spent dominating whatever ridiculous physical challenge decides to get in your way." Well, I like that.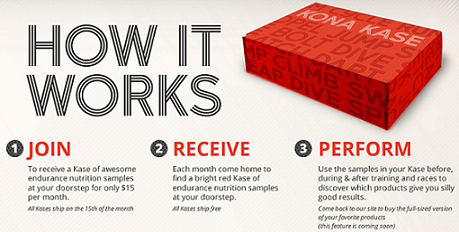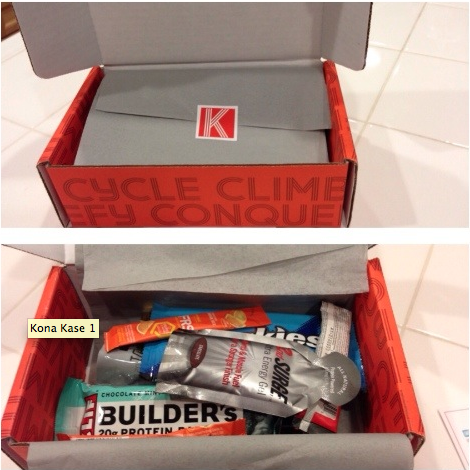 They agreed to send me a free "KonaKase" to try. I decided to check it out and offer it up to one of you all to use (and then you can tell us how you like it!)
> Gatorade Prime Pouch – Berry: A concentrated formula containing B vitamins to help convert carbohydrates to energy. We suggest using it as a pre-workout fuel that should sit well in your stomach during even the most grueling workouts.
> Clif Builder's – Mint: With 20g of protein and no hydrogenated oils or trans fats, they recommend the Builder's – Mint for a post-workout snack.
> FRS Healthy Energy Powder – Orange: Fueled by the powerful antioxidant Quercetin, FRS activates your body's own energy-producing mechanisms for sustained energy without fear of crashing. They suggest sampling it for a few workouts for maximum benefits.
> 2nd Surge – Chocolate: Specifically formulated to delay the onset of both muscle and brain fatigue, we recommend taking 2nd Surge with water about every 45 minutes of a long run. The gel has a thinner consistency than some other energy gels and goes down smooth.
> Vega Sport Electrolyte Hydrator – Lemon Lime: A natural, alkaline-forming drink mix free from sugar and artificial sweeteners, the Hydrator is best used during a workout to help fuel peak performance. For all the Vegans out there, Vega Sport products are 100% plant-based, free from dairy, gluten and soy.
> Powerbar – Banana: With 25 grams of complex carbs and 200 milligrams of sodium, we recommend Powerbar before a workout or during a long bike. [EF: OLD SCHOOL – I love these! Am I the only one?]
> Sharkies – Berry: Packed with real fruit juice, whole grains, and carbohydrates, Sharkies can help replace minerals and electrolytes lost during vigorous activity. For those who are looking for an alternative to gels during a long run, Sharkies may be your ticket. [EF: Love these – they are like candy but they don't stick in your teeth!]
> Larabar – Blueberry Muffin: Soft and chewy with a hint of crunch, this Blueberry Muffin is less than 200 calories and includes blueberries, cashews and dates. [EF: I LOVE LOVE LOVE Lara Bars!]
So… I am planning to send this KonaKase to one lucky winner! Lots of cool stuff to try – no?
How to enter:
Required: Please leave a comment on this post and tell me what you are training for and why you would be the perfect person to try out this KonaKase.
Optional for Additional Entry:
1. Share this post on Twitter, Facebook, Pinterest or whatever social media platform you belong to (make sure to include a link to the post)! Please leave a comment with the link you shared or the link to the tweet! If you share on Twitter, please include KonaKase's twitter handle: @KonaKase.
2. Donate $5 or more to my Cycle for Survival team (an AWESOME fundraiser for Memorial Sloan Kettering to fight rare cancers) – if you have already donated and are interested in the give away – leave a quick comment, please, to let me know.
Giveaway Details:
> You have 3 possible entries.
> Contest runs through 1/24 and winners will be selected at random based on comment order and announced on 1/25. Good luck!
As I was writing this, I realized that I still have a bunch of awesome stuff from GU that the guys at Outside PR sent me (because of Wendy's LOVE of Peanut Butter GU!) I have a bunch!!
So… if the random number generator does not pick you, I will send a bunch of entrants — up to 10– some other training goodies.
It will be some combination of the following:
> GU Roctane ultra endurance energy drink mix (grape)
> GU Brew electrolyte tablets (tri-berry or orange or peach tea)
> GU Energy Gel – vanilla bean, blackberry or peanut butter
From other races and boxes, I have:
> Fluid Performance: Natural Sports Drink or Fluid Recovery Drink mix (Chocolate Wave)
> Amino Vital Endurance Drink Mix – Mandarin Orange
And who knows what else? So get in there and enter a comment to get some good stuff for your training. You will then have the opportunity to let me know what you think (and to help me stop being an energy item hoarder) – a WIN-WIN!