I ran back to back races this weekend…a 5k run (Cookie Classic 5k celebrating 100 years of Girl Scouting. They had cookies at the end!) and the Chicago Half Marathon which is a fall staple here.
I ran the majority of both races with friends. Here is a major shout out to pacing with and enjoying running time with my friends, Stacy and Abby! I enjoyed these runs so much more than the ones I have done "solo" (with 1,000s of other runners) this year.
Saturday, Stacy and I biked 5 or so miles on the lovely, fall-like morning to Grant park, clumsily secured our bikes and set about doing good deeds like taking pictures for scout troops and their families and filling water cups. We were delighted to see Liz and Laura from our running group at the start. This was a small, well organized run. Since we were both doing the half on Sunday, Stacy and I wished Liz and Laura good luck and promised to keep each other in check. We were aiming for 7:30 pace. Well, as things got under way we went a bit faster than planned but enjoyed the company and the run and finished in 21:49 (7:03 pace). We did snag 3 boxes of Girl Scout cookies (don't worry they told us to take extra!) each and age group placements for all!
We were back at it bright and early on Sunday for the Chicago Half. It is a great event where 8 or so miles are actually run on Lake Shore Drive. It was another beautiful morning. In the start corral, we chatted with many friends and Abby mentioned that she was planning to go her training pace (she ran 20 miles on Friday!!) which was right where I wanted to be- 7:20-7:30 per mile. We set off with Stacy and were quick in the first 2 miles. Stacy took off and Abby and I ran the next 9 miles together. Like my friends in NYC, Marie and Rasko, Abby is a metronome. We clicked off mile after mile in 7:20 – 7:25 pace while catching up on life, chatting and running strong. We cheered for our fast men friends after they hit the turn-around point and enjoyed cheers from Sarah, Jeff and Dave along the way. Around mile 11, Abby was itching to go and I wasn't feeling it. I wished her the best and thanked her for pacing me and for her awesome company. She flew the last 2 and came in well over a minute ahead of me! I finished in my second best half time this year 1:37.32 (7:27 pace – I think.) Stacy ran her 2nd best time of the year in her 10th half marathon THIS year! It was a gorgeous day. Several friends ran personal bests. I will remember the great morning and awesome company for a long time to come!
Helen caught this action shot of me and a bunch of dudes near the finish:
Both races had "instant" results. Not bad for an old gal!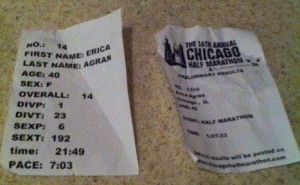 Links I Like and a Friend's Find:
– On the fitness theme, I enjoyed the Greatist's post "Are Fit People Happier?". Based on my experience, I would say, "hell, yeah!!" Aligned with my post above and experience this weekend, I liked their conclusion, "Exercise may contribute to happiness, but it's not the only cause of a smiling face. While physical activity is among the factors that have the biggest influence on our sense of well-being, it's also important to have a sense of belonging and purpose, financial security, and positive social interactions." I feel very fortunate!
– I really liked the author's perspective in this post from the Daily Worth. She talks about how saying "yes" to something that she initially was going to refuse led to new opportunities. I like the blogs and newsletters from Daily Worth. It is a community of women who talk money. They deliver "practical tips, empowering ideas, and the occasional kick in the pants." (Not bad advice for the menfolk either!)
– Pam turned me on to a new website – it is kind of like Pinterest meets Open Sky but with better prices. Check out Fab.com.
A Few Deals:
– Active Schwaggle has some good running deals: $12 for an iphone armband and 50% off on "novelty clothes for athletes".
– Gilt City has some deals at Exhale Spa at Exhale spas across the nation on classes and spa treatments – the Fusion massage rocks and this one is a good deal plus you can take an exercise class before. Bonus!
–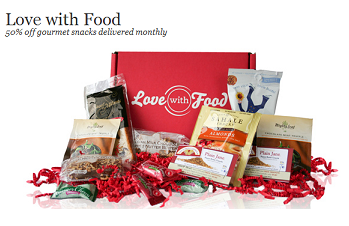 – Daily Candy added more of these after they sold out! Love with Food – 50% off curated gourmet snacks delivered monthly. That is $15 ($5/month) for a 3 month subscription (Note: a $2 per month fee is added for shipping per month). Try 8 or more snacks per month for $7! Plus, for every box ordered, Love with Food donates a meal to hungry children via organizations such as Feeding America Network and Share Our Strength.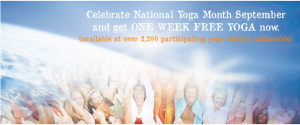 – September is "Yoga Month". Check out lots of great free offers including a free week of yoga classes all over the country.
– I also have a gift subscription to Glamour magazine for a year. Call it first in the comments and it's yours!
That is all for now! Have a good week!