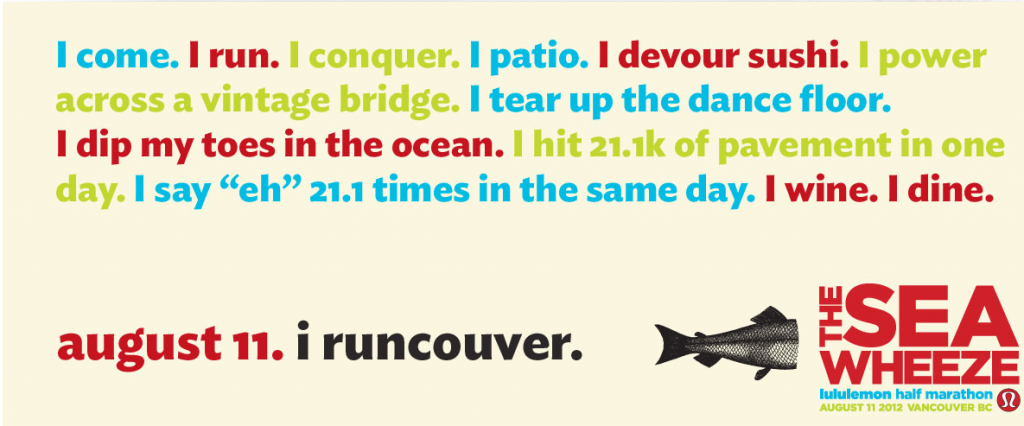 You have to hand it to lululemon– they sure know how to put on an event! And major hats off to Vancouver for being totally breathtaking (no pun intended) and full of lovely, helpful people.
When I saw the marketing for this race in January, it seemed like the perfect event for our Destination Race crew. It was turning out to be a busy summer for some of the gals (mountain climbing in Africa, weddings, other trips, etc.) We got a core group to commit and we were (literally) off to the races. Stacy, Molly, Wendy and I signed up and then my friend, Mahala, from NJ decided to come out of race retirement to join us!
After a zillion e-mails, we were on our way. It was a somewhat rough start as our Chicago crew watched and waited as our Friday plane was delayed first one hour and ultimately FOUR hours. The race started at 7:37 am Saturday morning so we had to be there by 9 pm to get our race "packages", coveted swag and shop in the special Lulu store. Mahala tried to get our loot but to no avail- you had to sign an NHS waiver! (The race had 2 strikes for us after sending out the race shorts in advance that were so short and white polka dots to boot that we wore them in the Chicago Undie Dash!)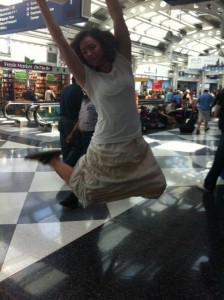 But alas, as you can see from Molly's joyful photo, we were on our way! We made it to the expo in time to get our chips, bracelets, string bags, flip flops (from local company Native) and coupons for the race store! So far so good. We then ate a delicious dinner at Preston's (spoiling salmon elsewhere for me in the near future!)
Wake up time was 6:00 AM, but we were all up early due to time change and pre-race excitement. We were staying a quick walk away at the lovely Westin Bayshore hotel (Thank you, Mahala for scoring an awesome rate!) and we made our way over to the convention center for gear check and the start. Several things were of note: this was the best dressed race we have ever seen, it seemed like a Lulu advertisement and it was 80% or more women (again- holy marketing genius!) We dropped our gear and went over to the start.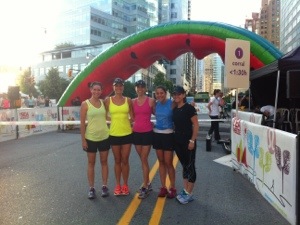 The start area was very organized and we chatted with our fellow runners and the 1:40 "pace beavers"- Why beavers? Why not? All was calm except seeing this guy in the first corral- eek!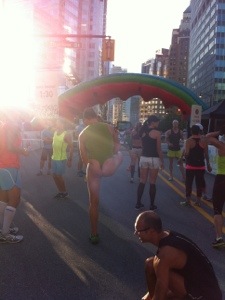 And we were off! As I said the course was breathtaking – we ran through Downtown, Chinatown, across the Burrard Bridge into Kitsilano back over the bridge then onto the Seawall past the West End around most of Stanley Park- thus arise the name! We all set off at a good clip and Stacy, Wendy, Molly and I high fived and cheered for one another on a big hill in Kitsilano. The scenery was so beautiful as we ran near the ocean and around the Seawall. The first half of the course was hilly and challenging (especially for us flat landers from Chicago!) and the Seawall was peaceful and beautiful. I followed several lulu clad babes kilometer after kilometer and tried to keep Stacy in sight. My will was tested around kilometer 17 (mile 10/11 for the US folks)- I was a bit tuckered out, but I pulled it together and passed the trio of lulu babes and made it to the finish. The last kilometer seemed like a mile and my effort level seemed harder than the finish result! No complaints though, I finished in 1:40 and change. Our whole group came in between 1:38 and 1:50 (including Mahala who surprised herself with a very swift comeback!) We were treated to free massages and the best post race food that any of us has ever had! (Yay for waffles!)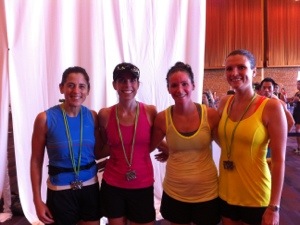 But wait the fun was not over! There was also a concert (the band Fun!) which we missed because we were having an awesome celebratory meal at the Cactus Club Cafe on the ocean (recommended by our new friend Barry from the Westin staff.) We did make it to the final event- sunset yoga at Kits beach.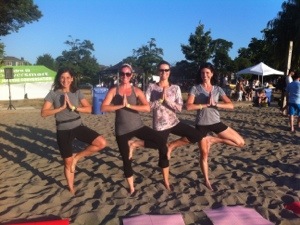 The yoga class was 1,000 people from the race, lulu and the Kitsilano community. It was totally awesome and just what the doctor ordered!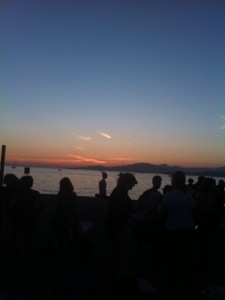 And there's more! We got to keep our yoga mats! Seriously!
So here is the swag: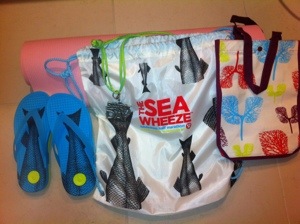 This was a great inaugural event. Our group of race veterans (we have approximately 170 half marathons under out collective belts) has a few pieces of constructive feedback to make it even better next year:
– Even though it was not billed as a competitive race, runners like clocks, placements (rank by chip time, please or people will not stay in the correct corrals) and accuracy. We are "type A". The course markers seemed off and clocks at the 5ks at least would be great.
– Water stops were a bit of a hot mess- especially the first one (it was off the course and confusing.) Alternating water and vega drink was unusual and confusing, too (and what's with all of the food?!) Also, the cups were too small. (However, we loved the liter water bottles and the nice people who opened them for us at the finish. (thank you!))
– The gear check line was too long. Next year give out tags, please!
– As the race grows, more porta potties can never be bad – especially at the start.
– We liked no bibs to ruin our duds, but people who wanted to buy or see race photos missed out.
– We loved the design on the volunteer shirts- would have loved to buy one or have one as the race giveaways. This is how runners learn about cool races to try – it is a missed marketing opportunity for you! (Our group is still mourning the lost opportunity to get the limited edition striped cool racer back tanks, too!)
All in all, though, lulu came through with a fun, well organized, swag-filled event that was much more than a race. For a first time race (or any race for that matter) – Bravo! A great time was had by all throughout the day and the trip. Totally awesome! A + We are already planning to come back!