Just like shopping, when I sometimes get carried away with signing up for races… Well, I get an e-mail months in advance for a race I have enjoyed in the past and I sign up. Then someone mentions a race to me and I sign up. A new races is introduced… and well, you get the picture.
I also don't do a very good job of keeping track of what I sign up for and agree to, so every so often (like this week), I wind up with 4 races in 8 days. Well, one was a "fun run" (untimed) so make that 3 races in 8 days (oh and one the week before.)
Anyway, I have been feeling good this year after several disappointing years, so I am truly enjoying the experiences.
Brief Recaps
Race 1 – Waterfall Glen Xtreme 10 – Saturday, July 21st, 2012 at 7:30am advertised as "10 Miles of Challenging Trails, HEAT, PAIN and GLORY". 10 mile race on wide trail. This is where we Chicagoans go to run on hills. There is one big one called "Big Bertha" that we ran up very early on (mile 3) thankfully! I have only done this race one other time in 2007 so was hoping to beat that time and I did! It was humid but not as hot as the previous few weeks. I started too fast (as usual) with Leslye and Ginny but ran almost even splits for the first half and second half which is good for me. Results – 1:13.49 (7:23 pace) Overall 98th, Women 18th, Age Group 2nd! I got a trophy for age group – I think… results were kind of a mess!
Race 2 – Chicago Undie Dash Thursday, July 24th 6:30 PM – Yes, I said undies – this is an untimed "fun run" described as "not your everyday 5K". The "Undie Dash" turned a few heads as thousands of underwear-clad runners took to the lakefront path in a fun, charity run. In addition to being an all-around good time, the event benefits Bright Pink, an organization that empowers young women to take control of their breast and ovarian health. Molly, Stacy, Wendy and I took the opportunity to wear our teeny, tiny undie-like lululemon seawheeze half marathon shorts. Good thing this was a fun run because we had an untied shoe, a contact lens issue and I stuck my foot in my mouth by telling a lululemon employee how ridiculous I though the shorts were for the average runner in a half marathon and for me – Oops! All in all, we had a lot of fun and enjoyed seeing people embrace running a 5k in their undies! Lots of superhero underoos in adult sizes. Who knew?!
Race 3 – BTN Big10 5K race – Saturday, July 28th 7:15 am. Yes, I know Rutgers is not in the Big 10. Many of my friends here are Big 10 alumni, so there was a lot of interest in this new 5k and 10k. They gave out tech t-s in school colors with Big 10 school names. They advertised, "Dress up in your favorite school colors and compete for your school in the 10K race or 5K run/walk." The marquee race was the 10k. I chose to run in the 5k (under the IU banner – Stacy, Maureen and Kelli's alma mater) and learned an important lesson – the first year of a marquee race, the secondary race is usually small and less competitive. Not to take away from my speedy gals, Kelli and Laura, but I had the unexpected experience of realizing in the first mile that I could place in the top 5 women and that my friends could win! Results: 21:20 (6:53 pace) Overall 31st, Women 3rd!, Age Group 1st. I won a $25 gift card for Fleet Feet for representing Indiana University – sorry RU sports fans!
Race 4 – Universal Sole Trail Challenge July 29th, 9:00 am. Um, yes that is 2 days in a row and 3 out of 4 days… I love this unpredictable trail run and they moved it from November to July (and of course I signed up and forgot all about it.) So I decided to head out and "just run" and see how I felt and either do it as a fun run or race. Maureen, Molly, Brian C (and Brian B & friends and Dan D and friends) enjoyed catching up and toeing the line for this cross country style trail run with a lot of single track and natural obstacles. I felt surprisingly great and was told that I was 6th (I thought woman, but turned out to be overall until a few men including Dan D passed me.) I met a nice man named John who informed me that no women were around me. That was a good thing considering that my shoe was untied for the last 1/2 mile. I tried to remember what I would do in high school X-C and I just left it as was and kept on keeping on. One day I will run smart like Dan – one day! Results 5.25 miles: 38:36 (7:22 pace) Overall 15th (corrected), Women 2nd, Age Group 2nd. I won this cool coaster!: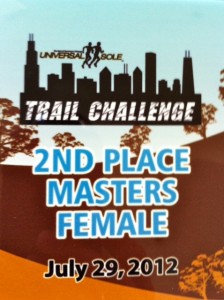 So all in all a great week plus of racing — good luck, fun race picks and milder weather– next up Seawheeze Half in Vancouver on 8/11. I am going to leave the tiny shorts at home and keep my best foot forward!
In the spirit of the running post, I found a few running links to share, too!
– The Greatist has 34 Ways to Make You a Better Runner which is actually 34 top stories to offer inspiration, help prevent injury, and even make us faster. Take some time to peruse these — they even answer the question "can I be allergic to running?" and The Most Common Running Injuries and How to Avoid Them.
– I also found 50 Stunning and Scenic US Marathons – one in each state. Even though I have done 33 marathons, I have only done 2 on this list — adding some of these to my list!
– In honor of Seawheeze, lululemon has a fun post of Best Running Signs by Spectators. My personal favorite is "Run Like You Stole It!" How about you??
– And for some motivation from Runner's World 101 Kicks in the Butt!
And in cased you missed it on Friday – a few running deals!
– I am not sold on this one but it could be good for the ultra folks. Gearbuzz has 50% off on "gas cap" visors and hats – cute name as you can stow your fuel (gels) there! Also, Active Schwaggle has 50% off Emergency ID bracelets from Gone for a Run. These bracelets – like RoadIDs – are a great idea for runners and cyclists in case of emergency. (Schwaggle has 50% off on select Timex sports watches but seems like they jacked the price — seems just ok!)
Stacy and I had an awesome farmer's market score Saturday morning, too! I will write all about that one tomorrow! I am too tired and it is too awesome to short change! Good night for now!