Every week, I collect links I like and save them in a draft e-mail to myself (if you are wondering "how does she do this?" No, oh well, the husband can tell you that I always over-share!) This week, I wound up with a ton of links I like, so this post is dedicated to "links I like" by category.
What's eating you? Food links:
– From Fitbie "20 Habits that Make You Fat" – happy to say I have kicked many of these (including the fact that I have not had a diet soda since April!). Eat slower and take smaller bites are next on the list.
– From Mind Body Green – "What To Do After Eating Badly" (and no surprise, the answer is not "finish off all of the bad stuff and start over tomorrow!) by Simply Sarah blogger Sarah Sturgis
Don't worry, be happy – Happiness
– From the Greatist – "40 Things to Stop Worrying About (and How)" (The husband will tell you that this one has my name written all over it and it does. I even tried some of these already – if only I can do #31, one of our long standing arguments would be completely done!)
– From Mind Body Green – a simple visual: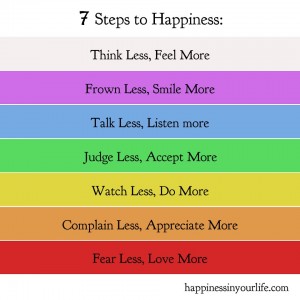 – From Marc and Angel Hack Life – "15 Ways to Live and Not Merely Exist" (Really hard to pick a favorite here… but "Be thankful for all the troubles you don't have" and "Leave enough time for fun" and "Enjoy the little things in life" are pretty spot on – no?)
Time to get away? Vacation
– From the Greatist – "Does Vacation Make Us Happier?" (Please say yes) and "24 Tips For a Fitter, Happier Summer Vacation"
– From Goop.com (you know, Gwyneth's blog) – "How to Fly Better" – (Great ideas from seasoned travelers – not only to fly first class ;))
Need to watch your pennies? Fiscally Fit
I found all of these links through the new blog Daily Worth– some of the posts are a bit elementary, but I am finding it useful and interesting. And when it comes to managing money, frequent and helpful reminders can only be good.
– "Is Your Spouse Cheating on You Financially?" (I hope the husband doesn't read this one. Just kidding, dear.)
– "When Using a Travel Agent Can Save You Money" (Interesting tips you may not know about!)
– "Want a Raise? Hit the Gym" from Smart Money
– "3 Do It Yourself Savings Ideas Tested" (I normally don't DIM(yself) but this is interesting and the comments are worth reading, too.)
Need to spruce up your digs? Home ideas
– From ivillage.com (which is like saying from aol.com, I know but somehow I cannot get off of their email list and I like this one!) "50 under $50 Awesome Finds to Brighten Your Home This Summer."
– Check out this cool new curated, home store a la Craigslist model (and blog) here in Chicago "Bethie B" . (I hope this one catches on!)
Want more? I also found two Awesome Health and Fitness Resource Guides from Daily Candy and the Greatist – great links to bookmark and come back to when you have some time.
And a Few Deals for Good Measure…
– 2 Chicago deals – Want to try a trainer? Rue La La (not a member, click here to join – it's free) has a smoking deal at Revival Fitness in River North (3 60 minute sessions for $69 or 5 60 minute sessions for $95!) Need a massage after the workout? Try this smoking deal from Bloomspot (not on Bloomspot emails? Click here to sign up and see the deal – it's free!) at Massage Garage $22 for 30 minutes; $45 for 60 minutes. At that rate, go twice!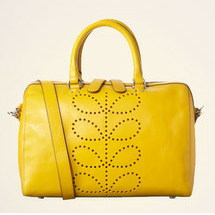 – A New York only deal (that may require a special trip or friend to go get this for me!!) – Gilt City is offering 60% off ($40 for $100 store credit or $100 for $250 store credit) at the Orla Kiely store! Do you love that bag as much as me?! (Not on Gilt City emails? Click here to sign up and see the deal- it's free!
– Have kids or kids to buy gifts for? Check out this deal at Daily Candy Deals for Young Scientists Club. 50% off on one science kit or on a monthly kit for a year. Pretty cool for the future scientists in your life!
– And in case you missed this hanging off of my race recap… Do good, feel good! Shop for a cause and save half-off on already-affordable clothes and accessories Refinery 29 Reserve has a great deal at a a-thread.com. It is $40 for $80 worth of cute, affordable, stylish clothes and accessories for women and 5% goes to your choice of one of 4 charities. A "win-win!"Click here to check out some cool indie offers at Refinery 29 Reserve.
Oh and one more thing… a GIVE AWAY! (2 actually) Share in my spoils – I received coupon codes for $25 off at Body Language Sportswear and $30 off on cool totes, grocery bags and liners at OG Sack in this month's Klutch Club box. Want to enter to win the deals? Comment on this post on my blog by Thursday, June 28th with a great link or deal you found and I will pick 2 winners at random! Good luck!
That's all for now – find any great links lately? Please send them along!