1. Did you love summer camp as much as me? Want to make a difference to a child and have your contribution doubled?

Until June 28th, your donation to the Fresh Air Fund will be matched, dollar for dollar – and will help brighten the lives of even more New York City children! Click the banner or HERE to donate today.
2. Want to be healthy? No? Well here is an "only in Chicago" (well…maybe in Wisconsin) event for you:

When? Saturday & Sunday, June 2-3, 2012 – Noon to 10:00 p.m. Where? Sheffield & Addison For What? Lake View Citizens' Council Why? Because there is sausage? No, silly, because it is summer in Chicago!
3. What did I get in the mail this week? My Klutch club box arrived!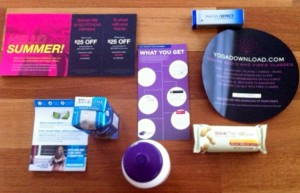 Since I already knew what was in it, the surprise factor was low, but for my $11.33, I got a coupon for $25 off on any purchase from movingcomfort.com (AND $25 off code for a friend — SO comment on this post and ask for the code and I will place all commenter names in a hat and draw a winner! Please comment – let me know you are reading!), a coconut water, 2 Think Thin bars, a yoga video download coupon, some fancy anti-wrinkle cream (apparently $70 worth!) and a water bottle. Worth it? Survey says "YES"!
Deals:
4. Should I try this for $20?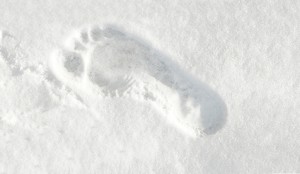 Lifebooker has a $20 deal for a visit to a Salt Cave in Oakbrook (and Cupping for an additional $20). Why try this? Lifebooker says "Don't freak—you won't actually be in a cave. Instead, you'll kick back in a peaceful room designed to simulate the atmosphere of natural salt mines. Halogenerators pump the room full of salty air and minerals (halite, sodium chloride, calcium, and magnesium) which have a therapeutic and detoxifying effect. The process alleviates all kinds of skin and respiratory probs, like asthma, acne, and ear infections. Still feel icky? Add a 20-minute cupping session for $40 total (reg. $80) suction cups are placed on the skin to draw out toxins, increase circulation, and relieve tension." Anyone want to try this with me???
5. And how about this? My husband races cars and has a "cool shirt" – it runs cold water though tubes and is connected to a pump and big container. Not so great for running. We joke about running with it. Someone came up with a running "cool shirt" and the Schwaggle guys are offering it for 40% off: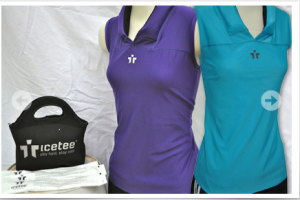 Worth a try for $42? This one is probably not for me! What do you think? If you do try it, let me know how it is!
6. Going camping or hiking this summer? Gearbuzz has a 50% off coupon code for Haeleum technical clothes with insect repellent built in. With 50% off the price is right! Click here and use Use Coupon Code "gearbuzz50" at check out.
7. Does everyone have deals now? Even Google? Yup! Google, too!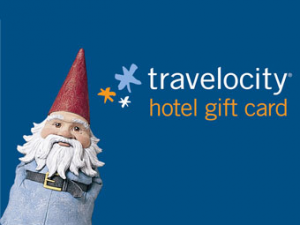 Get a $100 travelocity incentives card for $50. You have to book through travelocity incentives site, but there are no blackout dates and some good deals. Traveling soon? Go get it!
8. Here are some links I liked this week:
– On Twitter? (Me too – check me out at @EAgran). Like Healthy stuff? Check out the "Must Follow Health Twitter Accounts" from the Greatist.
– Think you are making a healthy choice? Check out this article from the Greatist on "How Your Healthy Habits May Be Not So Healthy". Me? I am guilty as charged.
– Superstitious? Me too. Will a good luck charm help you in an important meeting? According to 7 Laws of Magical Thinking, the answer is YES. Now what can I do about my lucky racing shoes being worn out? Better read this book ASAP!
– Coworkers think you are weird? Mine definitely do… need more time for exercise? The Greatist has 33 ways to deskercise to sneak in exercise at work. I am going to try one every day and see how everyone reacts. Why? Why not??
– Like cute fads for parties? Serving food in mason jars is a fad and I have seen it dissed on some higher class websites — but some of these suggestions from Shape looked fun and tasty! See 7 Must Try Mason Jar Meals
– Need another daily health blog to read? Check out The Well Daily and their Daily Happy Pill! or subscribe to Well + Good NYC with this link and be entered to win a 6 month Birchbox beauty subscription for you and a friend (a friend like me, maybe?)
– What makes Molly C's life complete? This article and especially this great piece of great news from Health Magazine!
9. Last question – did you read this? If so, please comment – love it? hate it? neutral? That's ok – just let me know you are out there so I will motivate to keep at it!