I love to travel for running events and… well… just in general. This week I found several things for the active traveler.

1. I like to have healthy eating choices wherever I go. I saw this new, free app (web, iphone, blackberry and android) You can use Good Food Near You to find food choices and menu nutrition information for twenty restaurants near you. Check out a list of places they have so far at and download instructions on the website.
2. I also travel for running races and liked this handy list of what to pack for races from Self magazine.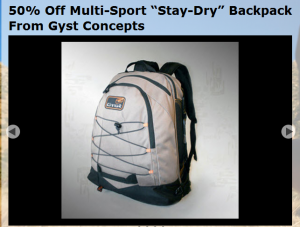 3. Hate wet, smelly clothes? I do! Especially when traveling. This deal could be really helpful for athletes (and race car drivers) on the road. Gyst Concepts has developed a solution with their 2-10 Backpack. This Backpack features their unique X-Changer Pack System which allows you to open it up anywhere, get changed, and toss the wet clothes right at your feet in the changing compartment when you're done. Your wet clothes will remain in a separate water-resistant compartment, shielding your dry goods from stink and moisture (it even has a foldable drain!) The pack also has two separate compartments with room for your dry clothes (and even a 17 inch laptop.) The backpack has a breathable padded back panel and side buckles for securing all of your belongings. Gearbuzz has 50% off deal on this backpack – at $55 may be just what the traveling runner needs!
4. I sometimes have tipping questions on the road. If you do, too, check out this handy tipping site before your next trip!
5. Of course, I don't want to over pay for gas when I am away. Want to know where to get the cheapest gas when you are out and about? Check out this green article from the Well Daily with links to the best gas finding apps!

Here are some new (and return) Deals –

6. Did you miss my Klutch club deal on Gilt? (check out the details here or at their site) Want to try it? Daily Candy deals has 2 months for $18 – $9 each or 50% off.
OR – if you know you want these boxes for more than 2 months, use the code KLUTCHfriend for 10% off any KLUTCHclub membership directly from their site! If you do, tell me and then I get a free box, too!
7. Like curated deals and finds? Want to use organic, non-toxic products in your home? Check out Mighty Packs at mightynest.com, $30-$34. Mighty Nest is a web site that helps you to research, get advice and buy natural, organic and non-toxic products all in one place. They have developed several "packs" that can be sent monthly or every other month (or you can order a la carte!) Enter code DCMP50 at checkout for 50% off your first order.

8. It is summer – heading to a lot of weddings? If the lucky couple is registered at Macy's, get $20 off of your $100 purchase (and free shipping) with the code GIFT (or click here to print a pass to use in the store.) But hurry – this offer ends on June 30th!
9. Active Schwaggle has a return deal for one of my fave brands Earnest Eats. 15 granola bars and 3 canisters of oatmeal for $20 (+$7 shipping) Why is this a good deal? Awesome flavors plus they are all natural, made with superfood grain blend of whole oats, amaranth & quinoa and whole food ingredients. Also, they are packed with protein, Omega-3s & 5 grams of fiber per serving for sustainable energy. (Less that $1 a serving, even with shipping!)
[Bonus!] This deal is over but I got (and shared) a good laugh out of the combo here (military weapons training and beer or wine and cheese?!). Living Social sold more than 1100 of these! Funny?or Scary? Best comment goes to Molly "That would be a great place to meet someone." Ha!
Chicago Finds:
10 . I found some cool links for Chicagoland events this week – best farmers and flea markets, a Labor Day weekend foodie event in Michigan from the folks at Check Please! and a modern architecture home tour this Saturday, June 23rd. Chicago rocks in summer! Also helpful for summer – this "mixology bootcamp" deal from Gilt City Chicago!
Links I like:
11. Thank you to Sarah R for sending me this link from a cool blog called Pick the Brain on "5 Ways to Be Happy No Matter What Happens" (and for the props on following these suggestions) I think I do follow #5 and generally have low expectations, so I am super psyched when things work out better than I expect! (In keeping with 5 helpful tips, I also like "5 Tips for Beating Stress when you are Overwhelmed" from Mind Body Green.)
12. A bunch of friends posted this on FB this week. Need a lift? Check out Pictures (and stories) that will Restore Your Faith in Humanity (Seriously, the one about the runner brought me to tears. I hope I would do the same!)
13. I missed yoga this morning, but shouldn't have – check out this article from Mind Body Green on yoga and healthy weight management or this one on "Why Every Athlete Should Do Yoga" (and grab your mat!)
That's all for now! What did you find this week?