1. So there is a lot of Father's Day buzz out there and I liked the twitter posts from Self magazine on "Best Stay Healthy Lessons from Your Dad". My dad passed away a few years ago, but there are many dad-isms and dad behaviors of his that I treat as lessons. Some favorites: "Almost doesn't count except in horseshoes and hand grenades"; always buy more food than you need (and share liberally); take time to get know people, relax, share your stories and make lots of friends. From my father-in-law (as told to my husband growing up), "Never complain. Never explain." and to me [get a map/atlas/Thomas Guide.] And one from my 98 year old grandfather in law – "it is better to be lucky than smart" (So true, Grandpa Rube!)
What are some of your favorite dad-isms that help to guide you?
Here are some fun (chain) restaurant freebies if you and dad happen to be out and about on Sunday and want a treat!
2. Thanks to Colette M. for finding Charity Miles

Charity Miles is a FREE iPhone/Android app that enables you to earn "corporate sponsorships" for charity by walking, running or biking. Just choose a charity and press start. As you walk, run or bike, the app tracks your distance and you earn money for your charity. Bikers earn 10¢ per mile; walkers and runners earn 25¢ per mile, all up to our initial $1,000,000 sponsorship pool. [I love their FAQ – "Q. how do you make money?"
"A. We don't know."] Seems worth a try!
And Some Fun Deals to Check Out:
3. Yay! Katie from KS Style Consulting who helped me get my closet organized and took away (and donated or consigned a ton of stuff for me) (see my post on her services here) has a deal on Gilt City Chicago – $95 for 2 hour closet clean out and outfit pairing (and she will take and consign your stuff, too) Katie is awesome Chicago friends! Give her a try!
4. Here's a special discount for all you runners out there. Use coupon code Active50 to get 50% OFF on Marathon Socks from Pro Compression in June! The socks increase blood flow to improve your performance on race day and enhance your post-race recovery. They are a must-have for every runner… especially at half price!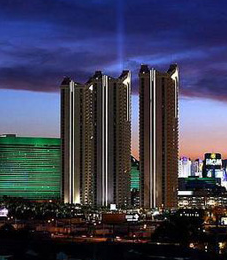 5. In no fan of Vegas, but… if you have to go, check out these sweet deals at the MGM Signature. They have 2 and 3 night packages with VIP benefits at super low prices! I have stayed in this casino free hotel and it is pretty awesome. Check it out!and bet $10 for me on black 26 on the roulette table. I'll pay you back!
6. Not into Vegas? Check out some fun deals on Daily Candy for language MP3s, doggie accessories, bacon, yoga mats, tooth brush sanitizers (these are super cute designs and something I didn't know I needed but now that I know what they are for, I think I might!) and more.
Links I liked this week:
I posted this tweet from Deepak Chopra on my Facebook page. Truer words were never tweeted:

7 & 8. Need some life changing tips? From Mind Body Green, 10 Life Changing Tips Inspired by Deepak Chopra. I have to practice #4 "Don't try to steer the river." (a/k/a – go with the flow!) and 10 Life Changing Tips inspired by the Dalai Lama. I need to remember #10 – "People take different roads seeking fulfillment and happiness. Just because they're not on your road doesn't mean they've gotten lost." (a/k/a – Don't be so judgmental!) How about you?
9. In the "oh no, what? oh I get it category …" category, Mind Body Green also has the article "Why Exercise and Burning Calories Won't Help You Lose Weight". It is an interesting perspective on exercise, aggression and behavior that could be causing lack of results from exercise. Be more self aware and reap rewards! I can try that!
10 Here's a good one for me from Huffington Post: Who is happier morning people or night owls? [Hint: it is before 6 AM!]
That's about all for now. Find anything good this week?