1. Here is a question for you? If you were offered a FREE spot for you and a guest at Camp Groupon in Chicago (valued at $749)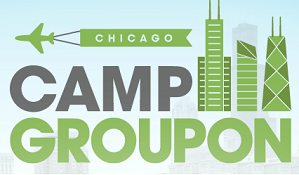 for "being one of Groupon's best customers" – a statement that did not favorably move the husband, by the way! (See honey, the meat cupcakes were worth it!) Would you take it? Even if you lived in Chicago?
It comes with: Two-night stay at the Swissotel Chicago, 6 meals at local restaurants, admission to Movie Night at Wrigley Field, admission to a private party at Navy Pier's Grand Ballroom with performances headlined by Counting Crows and featuring Grace Potter & the Nocturnals (open bar included), 3 recreational activities, all transportation from hotel to activities and all taxes and tips are included.
It is first come, first serve and on a weekend we already have plans… probably by the time I decide whether or not to bother with it, the opportunity will pass. What do you think? Worth it? (Cool stuff, open bar, free, private party, Counting Crows, etc.) or NOT (Be a tourist with a big group of tourists and do tourist things??) (PS. if we do decide to go, please don't tell them I said they "jumped the shark"!)
2. Love a surprise or love someone who loves surprises? Check out the re-launch of fair ivy.

What is fair ivy? it is a fun website for "surprise giving". At fairivy.com you can purchase a complete surprise for yourself or someone else, and bring back some of the old-fashioned joy of an unexpected package in the mailbox. They offer tags (man, woman, girl, boy, pet, etc.) to guide your purchase — it is a surprise for the giver and the getter! And for an added bonus, all items are individually handmade. They also have a fun blog! (Thanks to Amy M for tipping me off to this site!)
3. Do you use Pinterest? I am signed up but only use it sporadically. The Greatist has a list of the best health and fitness Pinterest boards to follow. Anyone have suggestions for how to use Pinterest while still having time to do anything else in the day??
4. I mentioned last week that I love books. Chicagoans are in luck – this weekend is Printer's Row Lit Fest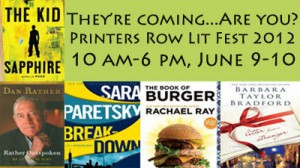 The schedule overwhelms me. I may just turn up on Sunday and see what I see. Not in Chicago? How about the Daily Beast list of Best Summer Reads for 2012? What are you reading these days?
And some Deals:
1. Gearbuzz has 50% off on select Sole Footwear. These flip-flops and slides are actually good for your feet and post race recovery. I have a pair of the flip flops – they are comfy and supportive!
2. Daily Candy deals has several winners at the moment – among them:
– The runner gals and I love GOOD GREENS bars – they are all natural, vegan, superfood bars normally sold in Ohio and online. (We tried them at the Cleveland half marathon expo in 2011 and this year got some more.) One box of 12 for $20 including shipping! (normally $29.99 plus shipping on good greens site)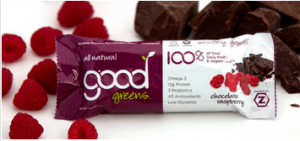 – Need a father's day gift? Dad love bacon? How about $99 for the Bacon of the Month Club from the Baconery? That is 35% off and includes: a special monthly treat for three months, a sample pack of best-sellers, a secret menu item, a limited-edition T-shirt, and a cutting board.
(PS – They also have my favorite portion control container set as a "candy favorite" return item – check them out – great for bringing lunch to work!)
3. Bacon not dad's thing? Bloomspot has $99 for 3 months of the "pig of the month" club. (Not on bloomspot? Click here to sign up!) Interesting – and kind of funny but not so great for the kosher dads out there!
4. Ever heard of "Affresh Cleaner"? Me neither, but they are offering 15 people who sign up for their email list a chance to run in the sold out Chicago Marathon (and grand prize trip for 2 to Chicago and entry – not so great for me, but… good for some folks!) in October. After the sweat-fest that was 2007, I swore off the Chicago marathon, but I am addicted to chances to win these days, so I clicked. You can click the Affresh logo below and give it a go if you are game!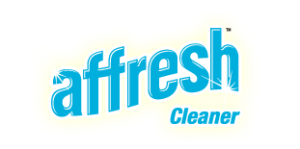 Links I liked this week:
– I loved this post from the Greatist on 89 Simple Swaps that Could Change Your Life. I have already tried some in every category. I am especially enjoying local produce, cinnamon in my coffee and interval training. How about you?
– In the age of Skype and stuff, Daily Candy to the rescue with a video on "How to Look Good on a Webcam". Seeing my face in the camera of my iPhone recently helped me to realize I should really watch this one and take it seriously!
– Need some good vibes? Check out Marc and Angel Hack Life. I liked their post on 10 Enemies of Personal Greatness. It is so spot on, I can't even pick a favorite. The Greatist also has a great post on "Tips for Positive Affirmations". Check it out!
– I also related to Self's "Surprising secret to loving your body". The authors description of her dad's comments reminded me of some unintentional zingers from family and coaches back in the day. Time to let go!
– My husband can tell you that I am a bit obsessed (read: crazy) about how long to keep food in the fridge. I like use (or to throw out) foods on or by the sell by date. Here is a helpful infographic on how long to keep food in the fridge from hellawella.com.
– And last, but not least, in the "I would never be this lucky" category… a story from Today on how a head injury turned this man into a musical savant!
Did you find anything interesting this week??