1. If you are like me and you love books AND you love lists, then then this is a perfect post for you. Check out NPR's Complete List of Summer Books for 2012. (And no, 50 Shades of Gray is nowhere to be found!)
2. Every so often something tickles me and I don't know why. This post from Vital Juice was "it" this week. Try this to find your spirit animal.
"Imagine that you are surrounded by a circle of rocks. Picture your heart opening. Imagine yourself in the center your heart, sitting beside one of your favorite big trees. Slowly float down to the root of the tree, deep into the center of the Earth. Ask your spirit animal to come down and meet you.
Stay in the meditation for as long as you feel comfortable. If you can't figure out your power animal the first time, try it again. It may hit you a few days later. More than one creature may appear, and that's okay."
(Sooo, when I figure out what it is, what do I do with that information? There is a book on Amazon to help. Animal Totems to help. Let me know if you read it and figure out how to use this important information!)
3. Give the gift of running to a child in need. Donate $10 (or more) to NYRR's sneaker drive to be automatically entered into random drawing where you could be one of three lucky winners of (2) $50 gift cards to Foot Locker and a pair of ASICS sneakers. Your donation will help to provide running sneakers to hundreds of children who may not have the proper sneakers they need to participate in NYRR's youth running programs. Plus, ASICS will be matching all donations up to $2,500, so your dollars can go twice as far. To enter, visit and donate $10 before May 31. (BTW, very few people have seen this so the odds of winning are HIGH! It is a great cause – check it out!)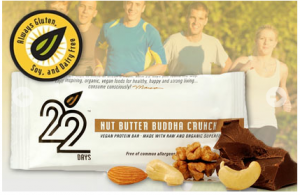 4. Try these awesome energy bars from 22 Days with this active.com Schwaggle deal. Choose 1 box of 12 vegan & kosher bars for $17 (normally $36). The bars are free of high fructose corn syrup, gluten, soy, trans fat, cholesterol & low in sodium and are made with hemp & rice protein. I tried these and I like them! They also have free nutrition tips for 21 days as it takes 21 days to create a new healthy habit.
5. Here is an interesting one that I am going to try from Bloomspot: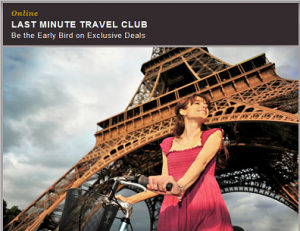 This deal is just $10 for a 1 year membership to Last Minute Travel Club. Access to discounts up to 50% off the best hotels around the world as well as flights, car rentals, and activities with immediate savings upon activation. Last minute prices in advance? From city skylines to star-studded island nights across the globe, make your dream vacation a reality with the help of this online go-to. As a Last Minute Travel Club member, exclusive discounts on first-class stays are at your typing fingertips. Seems to be worth $10 to try this out. I will and I will let you know about the deals I find!
Time to get back to the work week. Have a great week!