1. In the "does this work or is it like something 'As Seen on TV'?" category, check out the Active.com Schwaggle for "44% Off Two Instant Cooling Sports Towels"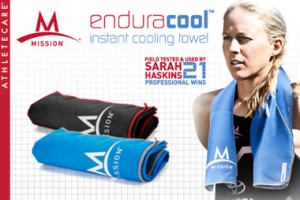 Well, it also comes with 2 Mission Athletecare lip balms and I have tried that and love it. So… as summer approaches and I will be melting in yoga and on the run, I think this is worth a try for $20 (+$5 shipping) – maybe get a friend to split it with you? (Speaking of "As Seen on TV", this article on "Do As Seen on TV Exercise Products Work?" from Shape Magazine amused me to no end. Thighmaster works? Who would have guessed?!)
2. Daily Candy Deals has another deal for the athletic folks and travelers out there. It looks kind of funky but seems like it could really work well.
For the normal price of the Runnur shoulder strap ($39), you get free shipping and an aluminum card carrier, too (if you don't know why you may want this – check out this news story on thieves getting your credit card IDs using RFID technology). Check out this deal HERE.
3. Two cool, free apps I saw this week: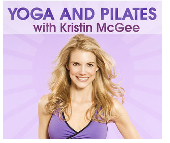 – Never enough time in the day to get to yoga? Try out this new app (Free!) called Yoga and Pilates with Kristin McGee. It features eight 10-minute workouts to help you chill out and tone up all over—anywhere, anytime. The high-def videos are shot in beautiful, calming locales. Choose from workouts such as "Yoga for Abdominals," "Pilates for Buns and Thighs" and "Yoga for Energy." The price is right and it seems worth a try! Click HERE to download.
– A cool app for Chicago eaters…



The BYOB App – Chicago provides an easy to use map of the over 250 BYOB (Bring Your Own Bottle) restaurants in Chicago! Ka-ching! Click the icon above to access the page in iTunes.
4. Guilty Pleasure Alert! Living Social has a great deal on a subscription to US Weekly. (Don't you roll your eyes at me… I see you reading over my shoulder on the airplane. I admit that I hide mine in the stack of mail that I carry, but I also admit that I have a subscription purchased on a similar deal. Until the reality stars took over 90% of the pages, I enjoyed every guilty page of it!)
5. Ran another race last weekend to get some more deals!
– 30% off atr adidas.com through 5/31 use promotion code: ADISECRET. (Also 6% back if you go through ebates.com – Create an ebates account if you don't have one!)
– Get $10 off when you join the Clymb. They have great prices on terrific health and fitness brands on 72 hour "flash sales".
6. Need some inspiration? Check out this amazing commencement address from the University of Pennsylvania entitled "Paths Are Made By Walking" –by Nipun Mehta, May 14, 2012. One passage that really resonated with me:
"When you walk, you quite literally see more. Your field of vision is nearly 180 degrees, compared to 40 degrees when you're traveling at 62 mph. Higher speeds smudge our peripheral vision, whereas walking actually broadens your canvas and dramatically shifts the objects of your attention. For instance, on our pilgrimage, we would notice the sunrise everyday, and how, at sunset, the birds would congregate for a little party of their own. Instead of adding Facebook friends online, we were actually making friends in person, often over a cup of hot 'chai'."
Take a few minutes to read this speech. You won't be sorry!
7. Other links I found interesting this week:
– In yoga, my teacher asked "If your life was a movie, would it be inspiring to watch?" She attributed it to someone and when I googled it, I found this article If your life were a movie what would the soundtrack look like?
– The yoga was really hot and sweaty and then I thought about ditching some old work out gear when I saw this article on the Greatist of the health risks you might be wearing.
– Daily Candy has a post on ZigZag City Guides – awesome pictorial flash cards for major cities (starting with Rome!) so kids can have fun and learn about places they are going (and to use while you travel.) Check it out here and please consider taking me with you next time!
– In Chicago, we love our summer – check out Time Out's best places for alfresco dining!
– Another cool Chicago recommendation is The Fork and The Road. They offer off the beaten path food tours by bike. Just visiting? Don't have a bike? They start near and recommend bike rental options. Can't wait to try this!
Busy week for finds, huh? What did you find this week?